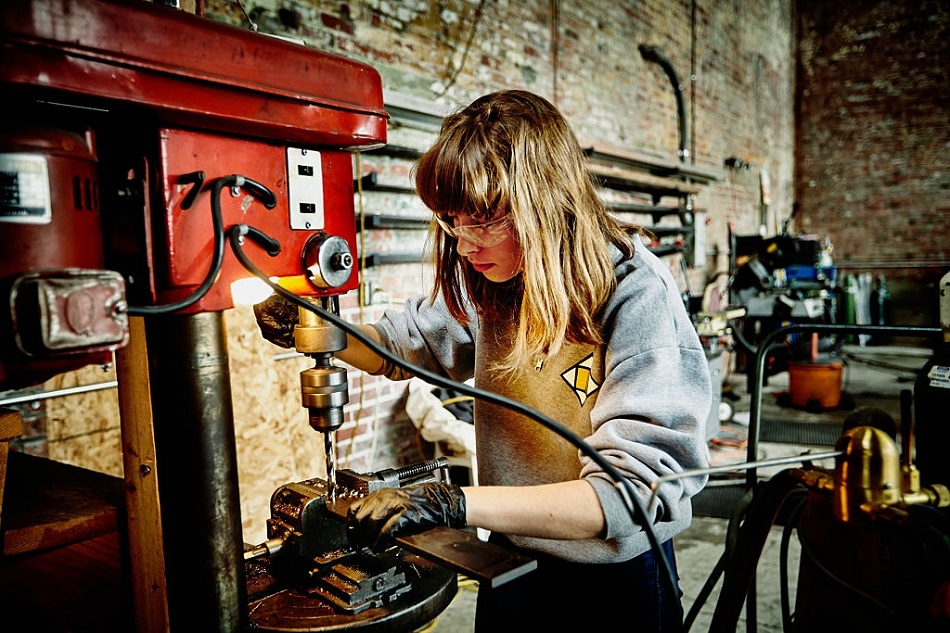 Looking for the best drill press for woodworking and metalworking, let's find out your best option below!
Drill presses are a very useful tool, whether you're into woodworking or metalworking, owning a drill press can make your life much easier. But the problem is there are simply so many different types of drill presses available for you to buy.
Choosing the best drill press is downright difficult. Drill presses vary by their power, their size, and most importantly their price. To make choosing the best drill press easier for you we have taken the time to produce some detailed drill press reviews which are aimed at making the buying process easier for you.
There are also multiple different types of drill presses. There's the floor drill press, the largest and least portable (also the most expensive drill press), then there's the benchtop drill press which sits on the bench rather than on the floor – this type of drill press is much more portable and cheaper than the floor-standing drill press.
You should also consider what sort of budget you have to spend. Depending on how much money you're willing to spend might determine which model of drill press you choose.
Below we will take an up-close look at the 5 best drill press models in our opinion.
#1
SKIL 3320-01 3.2 Amp 10-Inch...
#2
WEN 4208 8 in. 5-Speed Drill...
#3
Shop Fox W1667 1/2 HP...
#1
SKIL 3320-01 3.2 Amp 10-Inch...
#2
WEN 4208 8 in. 5-Speed Drill...
#3
Top 5 Best Drill Press For Woodworking & Metalworking 2021
1. SKIL 3320-01 Benchtop Drill Press
[sc name="amzl" asin="B003LSSS0W"]
This is the number one pick on our list, as an entry-level choice for people who need a good benchtop drill press but don't want to spend too much money. The SKIL 3320, 5 speed, 10-inch drill press is a highly precise machine.
For the money, there's no better drill press in our opinion. It has a 2 Beam laser guidance system designed to make creating precise holes easy. It is a small machine, and yet it has plenty of power for its size – it has a 3 amp motor which has 5-speed settings from 570 RPM to 3000 RPM. It has a chuck which 1/2 inch in size, so it can handle large drill bits.
The assembly requirements for this drill press are easy, so you can get it going in under an hour after you receive the package. As far as the build quality goes the SKIL is among the best out there. The most important parts are made from cast iron so they're very sturdy. Overall the SKIL 3320 is fantastic for its price.
2. WEN 4208 – B

est Drill Press For The Money
[sc name="amzl" asin="B00HQONFVE"]
The WEN 4208 is another good option for those on a relatively tight budget. It is a compact 8-inch drill press with 5-speed settings. Like the SKIL drill press reviewed above, this drill press has many of the crucial parts constructed out of cast iron which makes for a very durable tool.
The base of this drill press is also cast iron which helps to prevent wobble thus ensuring a smooth operation while drilling holes. The motor on the WEN 4208 is fairly powerful at 1/3 horsepower. Like the SKIL drill press, the WEN 4208 also has a large chuck for a lot of options when it comes to drilling bits.
Overall this benchtop drill press from WEN is very versatile, compact, and comes at a good price – that's why it earns its spot as number two on our list.
3. Craftsman 12-inch Benchtop Drill Press
The Craftsman drill press is another good option if you're looking for a benchtop drill press which is slightly larger and more capable than the WEN 4208. However, the increased size and performance do come with an increased price tag unsurprisingly.
With this machine, the higher price tag is justified as it does come with a lot of extra features to make drilling easier and more precise for you. It has a laser guidance system to ensure precision, and it also has a digital depth readout.
[sc name="amzl" asin="B00271OQ4G"]
It is powered by a 1/2 horsepower, 3.5 amp motor which is perfectly ample to get the job done in most cases. It has various speeds available from 350 to 3000 RPM. Overall while not the best value for money, this is another good option.
4. Shop Fox w1668
[sc name="amzl" asin="B0000DD1BD"]
Shop Fox is known to make great power tools, and the Shop Fox W1668 is no exception. It's not as cheap as some of the other drill presses on this list, but with the extra cost does come more power and features.
The motor on the Shop Fox W1668 is extremely powerful, and 3/4 horsepower, it also has a whopping 12 different speeds from 250 to 3050 RPM. As mentioned before this drill press is a very versatile design – one feature that is noteworthy in this regard is the adjustable table. The table has a swing of 360 degrees and can tilt 45 degrees so you can adjust it just right for any project you want.
Overall this is another good option, though it is on the more expensive end of the spectrum.
5. Delta 18-900L
[sc name="amzl" asin="B003YCEEQC"]
The Delta 18-900L is about as high quality as drill presses get. It is favored by professionals for use in industrial situations.
For this drill press, you need to have a lot of space available to put it as it's very tall and mounts to the floor, rather than to the bench. As for the height, this drill press is 18 inches, so it is perfect for large projects that require big drilling operations.
The Delta 18 900L comes with a whopping 16 different speeds and an auto-tension belt drive system which makes changing speed settings far more consistent and efficient. The depth stop on the Delta 18-900l is micro-adjustable so it's perfect for precision work tools.
Overall this drill press is probably the best on this list, and it does have a hefty price tag to reflect that.
How to Use Benchtop Drill-press Like a Pro?
A drill press is an easy, one-job tool, correct? Some may even call it"boring" However, as is frequently true with tools, many tinkering minds have come up with smart ways to apply this humble shop staple. Here is the way to use your drill press to its entire potential.
Basic Use
Drill-Press Hacks/Tips You Want To Know!
Conclusion – The Best Drill Press for Your Need?
The drill press is an essential tool for anyone that is dedicated to DIY, woodwork or metalwork. Even everyday Joe's and hobbyists would benefit from owning a drill press.
The drill press is sort of like a handheld drill, except that there are many advantages a drill press has. It is much more powerful and has a high level of precision and accuracy that allows you to drill straight perfect holes every time.
Hopefully, after you've browsed through our guide to buying the best drill press you know which one is best for your needs. The SKIL 3320 in our opinion is the best pick because it combines power and precision all in a machine that is very well priced.
Affiliated links and Images on this post was last updated on 2022-09-12 via Amazon Product Advertising API.