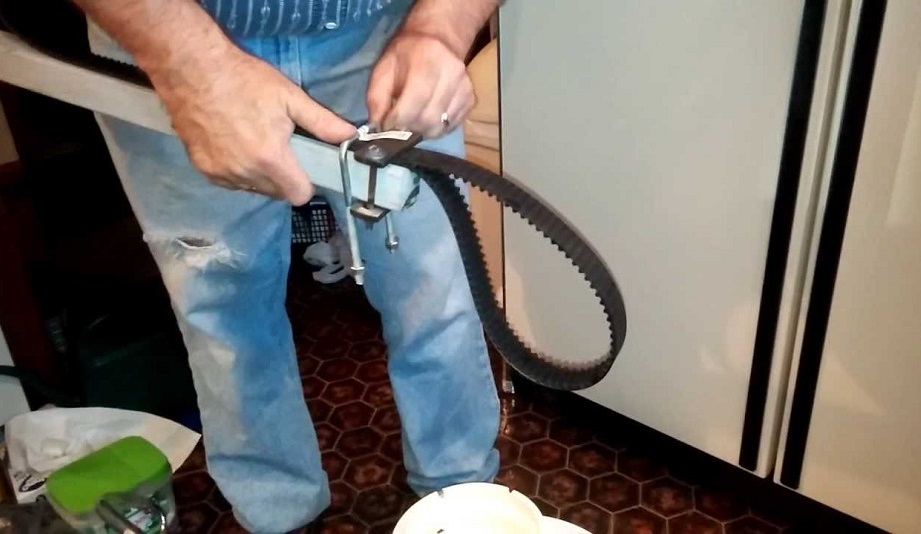 Although it's not usually used for daily-basis work, a strap wrench is often that necessarily useful tool you'd need in some special cases. 
Made from rubber or polyester, strap wrenches utilize the tension of the strap itself to have a grip on knobs, pipes or other types of cylindrical components. Meanwhile, the best strap wrench will also make sure to cause no scratches or damages to the object it's applying force on. 
If you happen to look for the best strap wrench in the market, we have here our list of the best 5 products with detailed reviews. Keep reading to find out what is your ideal tool. 
#1
RIDGID 31360 Model 5 Strap...
#2
Boa BO13010 Constrictor...
#3
OTC 7206 Multi-Purpose Strap...
#1
RIDGID 31360 Model 5 Strap...
#2
Boa BO13010 Constrictor...
#3
OTC 7206 Multi-Purpose Strap...
Top 5 Best Strap Wrenches 2021 Reviews
1. RIDGID 31360 Model 5 Strap Wrench
The Ridgid 31360 Model 5 strap wrench features a 29-1/4" polyurethane-coated woven nylon strap that is super durable. This strap material helps provide users a tight grip to get a better job done. 
This model can tackle any pipe from 5-inch to any tube with a 7-inch outer diameter. Moreover, the handle of this strap wrench has an 18-inch length, allowing it to deliver exceptional leverage and excellent torque. You can twist any big, heavy-duty pipe or tube apart without leaving any marks on it. 
To top it over, Ridgid offers users a lifetime warranty. You will never worry about any defect for the whole lifespan of the tool. Ridgid will take care of it for you. 
Pros:
Durable strap material

Long handle

Lifetime warranty
Cons: Expensive tool. 
With an outstanding grip for powerful torquing performance, it's easy to understand why this tool can be the best strap wrench for anyone. 
2. BOA BO13010 Constrictor Aluminum Strap Wrench
ON SALE
The best thing about this BOA BO13010 Constrictor Aluminum Strap Wrench is its aluminum handle for the best durable tool you'd ever have. The handle featuring a soft rubberized grip, allowing users to have a firm yet comfortable hold of the tool. 
The overall size of the tool will perfectly fit in anyone's hand. You can grip, open or twist apart any shape without suffering from hand fatigue. 
Made from a unique thick industrial-strength rubber, the strap of this wrench is designed to withstand any hard object. It can tackle any strain to a maximum of 2000 lbs of pressure. There is no way this strap can break off in the middle of the task. 
Pros:
Unique industrial rubber strap

Ergonomic handle

Sturdy & Durable.
Cons: Rubber strap can have dry rots after a few years of usage. 
Can fit almost every object, this versatile tool is surely one of the best strap wrenches for anyone who loves the multitasking feature. 
3. OTC 7206 Multi-Purpose Strap Wrench
This strap wrench is perfect for any scale of work, from around the house to heavy-duty tasks. It is designed with a 53-inch nylon strap that securely grips onto any large pipes without causing them any damages. Moreover, the strap is replaceable for users to switch to their favorite type. 
This tool features a long 12-inch aluminum handle, allowing users to get the job done much quicker and more efficiently. With these features, you will be able to handle any pipe tasks at ease and still produce excellent performances. 
The tool can be used for any kind of component, even those large oil filters. Hence, you'll have that versatility from just one single tool. 
Pros:
Replaceable nylon strap

Aluminum handle

Versatility.
Cons: Nylon strap might slip off smooth surfaces. 
If you're working more on heavy-duty tasks, you'll be surprised how powerful this strap wrench can work.
4. Craftsman 9-45570 2-Piece Strap Wrench Set
The Craftsman 2-piece Strap Wrench Set features 2 different strap wrenches with 2 different handle sizes and lengths. The large-handled strap wrench can handle any pipes or tubes with a diameter up to 6-3/8 inches. Meanwhile, the small one will be best for small components with a diameter of up to 4 inches. 
All of these two wrenches come with an ergonomically designed handle with a cushioned plastic grip. This kind of handle allows users to have a good grip on the tool and still feel comfortable after long hours of usage. 
On the other hand, the straps of this set are made of strong rubber that can securely grip almost anything without a chance of breaking. There is even friction to help it avoid slipperiness.   
Pros:
Reinforced rubber strap

Two sizes for versatility

Ergonomic grip handle.
Cons: Plastic material might wear off fast over time. 
Affordable and effective, this set is a must-have tool for anyone from DIY-ers to professionals.
5. TuffMan Tools 2-Piece Strap Wrench Set
The TuffMan Tools Strap Wrench set comes in 2 different strap sizes. One large wrench can work well with pipes up to 6 inches in diameter. The other small strap wrench allows users to tackle smaller diameters up to 4 inches. 
Made of strong rubber material, these straps are sturdy enough to be used in any kind of work, from household maintenance tasks to professional mechanic workshops. Additionally, the straps are both flexible and can firmly grip onto the tool for a snug fit. 
This model features an ergonomic handle design with a non-slip grip for better hold and extra comfort for users' hands. You will not suffer from fatigue even after using the tool for a long time. This will come perfect for any weak wrist and arthritic hand.
Pros:
Two straps sizes included

Versatile

Rubber grip for a comfortable handle.
Cons: Some users experienced a strong odor from the tool. 
Conclusion: This super cheap yet high-quality tool might be the best strap wrench you've ever owned in your toolbox.
Things To Know When Buying Strap Wrenches
The best strap wrench will give you the easiest time working with pipes or lids. Not just that, it can also last for a long time, be comfortable on hands, and strong enough to have a firm grip. 
If you're looking for the best strap wrench for your work, here are a few factors you should take into consideration carefully before making your purchases. 
Strap material
The two most commonly used material for straps in strap wrench is rubber and nylon. Both of these two types work well on any rough surface, thus you might consider either of them for the corresponding task. However, each of the materials has its own advantages and disadvantages.
With smooth surfaces, a rubber strap will deliver better performances and better grip. They are indeed stronger and more durable than most other materials which are often used for the same jobs. This is the reason why most of the straps in the market nowadays are made of rubber. 
On the other hand, a nylon strap wrench owns its points for hard to having scratches and anti-marring. It ensures no marks or damages left behind on the objects.  
Strap Length
Strap length is also one important factor that will affect the result of a task. The larger the object's diameter, the larger the strap you'll need. 
However, there are also some detailed jobs that require users to deal with small objects. This is when the small-size strap wrench comes in handy. 
In short, pick a strap length that will fit your demanding task. Or if you love versatility, there are strap wrench sets on the market that can provide you with both large and small strap lengths. 
Handle 
The handle is the one that will not only determine the comfortable feeling for your hands but also affect the power of the tool's performance. There are two sub-factors you should care about when it comes to handles: their size, and their material and design. 
Length-wise, the longer the handle is, the more leverage it can deliver. While large and long handles offer excellent performance for large-scale work, the small short handle will be perfect for narrow and compact areas. By the same token, shorter handles are definitely more lightweight.  
On the other hand, the fact that a handle made from metal is much stronger and durable than a plastic one is another point you should remember before making your purchase. Meanwhile, the cushion grip and ergonomic design handles will be a big plus for the tool. 
Frequently Asked Questions 
Question: What is a strap wrench used for?
Answer: Despite its simple structure, a strap wrench can be used on various types of work. 
For household users with daily basis maintenance, they can utilize it to replace the oil filter or to remove flywheels of your vehicle. 
Meanwhile, a strap wrench can also be a plumber's best friend to work with pipes, especially to open, loosen or tighten them up. 
Question: Why should I use strap wrenches?
Answer: There are some benefits a strap wrench can bring to its owner: 
First of all, a strap wrench can help users to loosen or tighten any components which don't have flat surfaces for other wrenches to grip. Moreover, as it's usually made of flexible materials, it can also allow users to work with pipes and tubes in hard-to-reach spaces. 
Secondly, it's the versatility, one-size-fits-all tool you'd always need. Because it's adjustable, it is designed to fit almost all sizes of components. You can just wrap the strap around the pipes or lids needed to open to close, tighten it up, then voila, it securely grips. 
Question: How should I take care of my strap wrench?
Answer: The best strap wrench will last for a long time. However, to keep it as good as new, and functioning at its best, you should take care of your strap wrench before it has signs of deterioration. Here is what you should do.
Since strap wrenches are versatile, they can be used with a variety of objects, sometimes oil filters. Thus, to keep it cleaned, you should wipe off the dirt and oily or impurities from the wrench, especially in those corners or cracks in the rubber straps. 
Keep the tool away from heat
As the straps are usually made of nylon or rubber, they should be kept away from the heat. No one ever wants their strap to be melted. 
Use the strap wrench accordingly to its power capacity
We have mentioned above, there are different sizes of strap wrenches to fit different task scales. Thus, get to know your tool's capacity to avoid it breaking or snapping off in the middle of use time. 
Final words
Even though it's not a daily basis tool to use, a strap wrench is still that specialized tool good to have around. With our list of 5 best strap wrenches, along with the detailed buyer's guide, we hope you can now get the best strap wrench in the market.  
Bestseller No. 1
Bestseller No. 2
ON SALE
Bestseller No. 3
Affiliated links and Images on this post was last updated on 2022-07-07 via Amazon Product Advertising API.