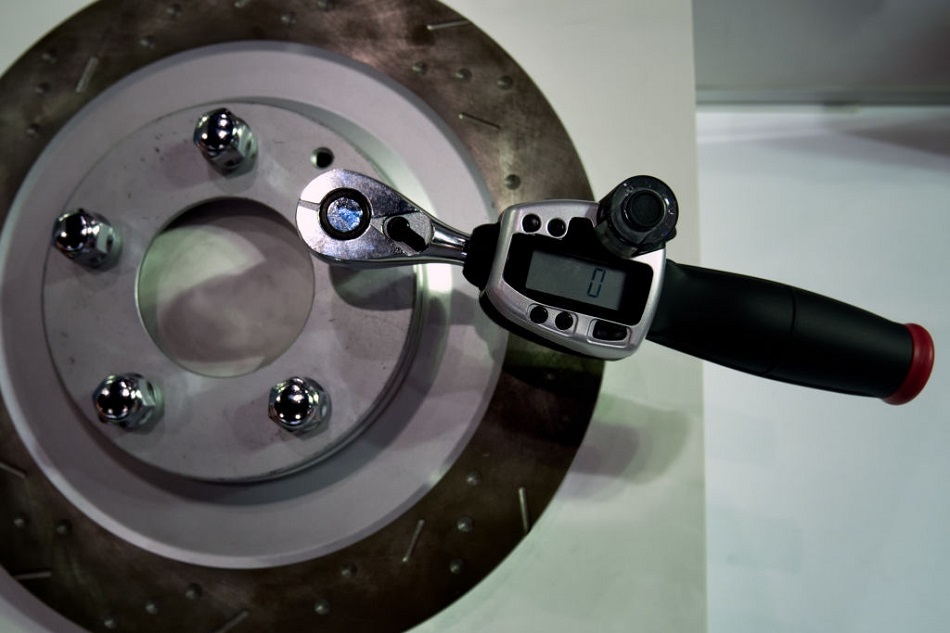 An inch pound torque wrench is basically a regular ratchet that features higher accuracy than normal foot-pound ones. While the latter is much more popular in the market, the former will come in handy in cases the right exact level of torque is required. 
The best inch pound torque wrench will provide you the most precise torque value to fasten a bolt or screw. If you're looking for one, we've done the hard work to save you the time and hassles of researching. 
We compiled the top products in the market with their customer reviews to give you a piece of information needed. Here is our list of the 5 best inch pound torque wrenches. 
Top 5 Best Digital & Click Inch Pound Torque Wrench 2021
1. TEKTON 24335 1/2″ Drive Click Torque Wrench
The first reason this TEKTON 24335 model included as the best inch pound torque wrench is because of its all-steel construction. This high-quality material offers consistent performance and long-term serviceability. No plastics components equal no break.
This tool features a reversible ratcheting head that can tighten fasteners in both directions. However, it can only measure torque levels in the clockwise direction. The measurements come in both metric and SAE units, all displayed in high-contrast for low-light environments.
The click torque wrench from TEKTON covers an accuracy rate of ± 4%. This allows users to work with confidence and avoid over-tightening. 
Pros:
Reversible ratcheting head

Dual-range measurements

All-steel construction
Cons:
This tool can only measure torque values clockwise.
Conclusion: With its all-steel construction and all required factors for the best inch pound torque wrench included, this is indeed the best choice for frequent and long-term use. 
2. EPAuto 1/2-Inch Drive Click Torque Wrench
The best thing about this EPAuto torque wrench is its durable ratchet head. It is made from hardened steel alloy and coated with Chrome Vanadium. This ensures the ratchet head to be extraordinarily durable, giving you a long-lasting tool to work with. 
The high-quality material gives the tool a powerful performance that can deliver from 25 to 250 in-lbs max torque. With its calibration working in both ways and the accuracy rate up to ± 4%, you can confidently tighten bolts and screws at the right value of torque. 
This model features a satin finish to help it withstand rust and corrosion. It's also designed to offer comfortable feelings and a better grip for users with an anti-skid, knurled handle. 
Pros:
Sturdy storage case

Corrosion-resistant

Durable material
Cons:
Some tools have lines on the adjusting scale not lining up properly.
Conclusion: Affordable and high-quality, this tool worths its place as one best inch pound torque wrench on the market. 
3. Performance Tool M195 Beam Style Torque Wrench
The Performance Tool M195 is a beam-style torque wrench featuring a pointed steel spring beam to indicate torque values while avoiding bending. It is also claimed to anti-fatigue, giving the tool a long-lasting product life. 
With this type of torque wrench, the accurate measurement works both clockwise and counter-clockwise. All graded in both metric and SAE units, allowing users to easily convert from one to other measurement units. 
The dual-range scale is made in high contrast, which will be perfect in cases you need to work in dim settings or low light. Moreover, the tool covers a range of torque from 0 to 80 in-lbs with consistent accuracy guaranteed. 
Pros:
Deflection-style steel spring beam

Fatigue resistant

Dual-range measurement
Cons:
The pointer doesn't always rest exactly on Zero.
Conclusion: While it can also be used for different kinds of fasteners, this inch pound torque wrench will be a perfect choice for any applications measuring break-away torque. 
4. TEKTON 24340 1/2-Inch Drive Click Torque Wrench
This model is just like a bigger version of TEKTON 24335. It is sized for big vehicles like cars, tractors, trucks or sometimes, large equipment. The tool features a longer handle, compared to model 24335, allowing users to easily access and work at ease with larger items. 
Covering a torque range from 25 to 250 ft-lbs, this torque wrench is tough enough to handle any extra strength required. With the calibration of ± 4%, the tool lets you tighten fasteners assuredly to the most precise indicated specifications. 
This tool is also made from all-steel material, which offers users the most durable and long-lasting inch pound torque wrench. 
Pros:
Works well with large equipment and vehicles

All-steel material

Accuracy of ± 4%
Cons:
This is the master-level, which will require some technical expertise to effectively operate.
Conclusion: If you're working in the vehicle maintenance industry, or equipment, this might come as the best inch pound torque wrench you'll ever experience. 
5. Capri Tools 31200 20-150 Inch Pound Industrial Torque Wrench
The Capri Tools inch-pound torque wrench features the most advanced technologically constructed components. All the internal components of the tool are made with automatic CNC machinery to be precisely made, therefore, it can produce consistent and accurate torque.
This model covers a torque range from 20 to 150 in-lbs with the NIST-Traceable Calibration Certificated accuracy rate of ± 5% in counter-clockwise and ± 3% in the clockwise direction. The readings part comes in both metric and SAE units, which are all engraved onto the tool to ensures it stays forever. 
The special thing about this torque wrench is the built-in lubrication. This small feature actually enhances the tool's performance a lot. This is because it helps soften the joints, movable components, as well as wards the friction off. 
Pros:
Engraved dual-scale

Advanced technologically made components

Built-in lubrication.
Cons:
Conclusion: This is the best inch-pound torque wrench for anyone who loves advanced tools, such as technologically constructed components.  
Types of torque wrenches
Torque wrenches are divided into 2 big categories: Manual and Electronic Torque Wrenches. Then for the Manual category, we will have 3 different types of manual torque wrenches: Beam, Dial, and Click type. 
Here is some information about each type of torque wrench.
Beam Torque Wrench: 
This is the cheapest and most basic type. Just as its price, it is also the least precise torque wrench. However, beam-type is mostly preferred by mechanics for its ability to handle bulky heavy tasks. 
Dial Torque Wrench: 
This tool displays the torque value through a dial, which will require your attention for keeping track until you reach the desired value.
Click Torque Wrench:
The most common torque wrench type. A 'click' sound will pop out once you get to the pre-set value of torque.  
Electronic Torque Wrench:
This advanced tool is a combination of dial and click type. It will indicate the torque value through a digital display and an audible tone to alert once the tool reaches the desired torque level. 
How to Choose Best Inch Pound Torque Wrench
With a lot of products and different types of torque wrenches available in the market, it can be really hard to consider and pick out the best inch pound torque wrench for your tasks. We understand you, so we would like to include here our Buyer's Guide to guide you on factors you need to consider carefully before making your purchase.
Accuracy
The finer the rating, the better. Always keep this in mind when it comes to the accuracy of a torque wrench. The best and most recommended accuracy rate for torque wrenches is often less than ±5% with its inch-pound settings. 
The accuracy is perhaps the most essential factor to be considered. In the end, the reason you buy an inch-pound torque wrench is just to take advantage of its measurement during use. With a more precise torque wrench, you will lessen the chances of over-tightening. 
Material
As it is always advisable, don't cheap out on your tool, especially in terms of the material. 
A plastic torque wrench will always be the cheaper option but it won't last long. In contrast, the all-metal torque wrench will be a bit more expensive yet it surely will be the most long-lasting tool you have. Hence, it well worth the money you spent.
However, if the budget is limited, get a cheap torque wrench accordingly to your need but try to keep the plastic components to the minimum. 
Ratcheting
The best inch-pound torque wrench is also the more versatile tool, compared to the other ones. An additional ratcheting mechanism will make a torque wrench much more useful, as it helps the tool to be faster and easier to use. 
Handling
The comfortable feeling when using a tool will also determine if that tool is a good one. That extra comfort will also help your arm and hand in the long run, a lot. This is why we highly recommend you to get a torque wrench with a comfortable and ergonomic handle. 
The best inch-pound torque wrench usually features a rubberized handle that can resist slipperiness, offer extra comfort and better grip for safety. 
Certificates:
The best inch-pound torque wrench sometimes has certificates for their proof of qualifications. The certificates often indicate the accuracy and torque calibration ranges of the particular tool. Certificates are ways the manufacturer opts to show that their tool has been tested and qualified to some international or national qualifications. 
Storage case
The inch-pound torque wrenches are calibrated tools, which will require extra care. Being dropped on any surfaces or banged around the toolbox will affect the calibration and reduce the accuracy of the torque wrench. Thus, the torque wrenches are often sold along with a case for storage.
Frequently Asked Questions
Question: How often should I calibrate my torque wrench?
Answer: It is widely advisable to have your torque wrench calibration done every 12 months or after every first 5,000 cycles, whichever comes first. 
However, it also depends on some other factors. For example, the more frequently you use your torque wrench, the earlier and faster you'll need to calibrate your tool as it will go out of calibration, or wear out.  
Question: How can I preserve a torque wrench?
Answer: To well preserve a torque wrench, you should have it checked regularly for components that might be wearing out or defective. Moreover, you should also lubricate the movable parts or internal components to lessen the chance of wear and tear.
Lubricating your torque wrench will also reduce friction and ensure smooth operating. Last but not least, pay attention to how you store the torque wrench. It should be placed in casings and kept away from damp environments to avoid corrosion. 
Final words
Everyone will love to get the torque wrench that both matches their requirements and their budget, and high-quality, and long-lasting. With our list of top 5 products and the buyer's guide, we hope you now have the information and reviews you need to get the best inch-pound torque wrench for your work. 
Latest Inch Pound Torque Wrench ON SALE
Affiliated links and Images on this post was last updated on 2022-09-12 via Amazon Product Advertising API.