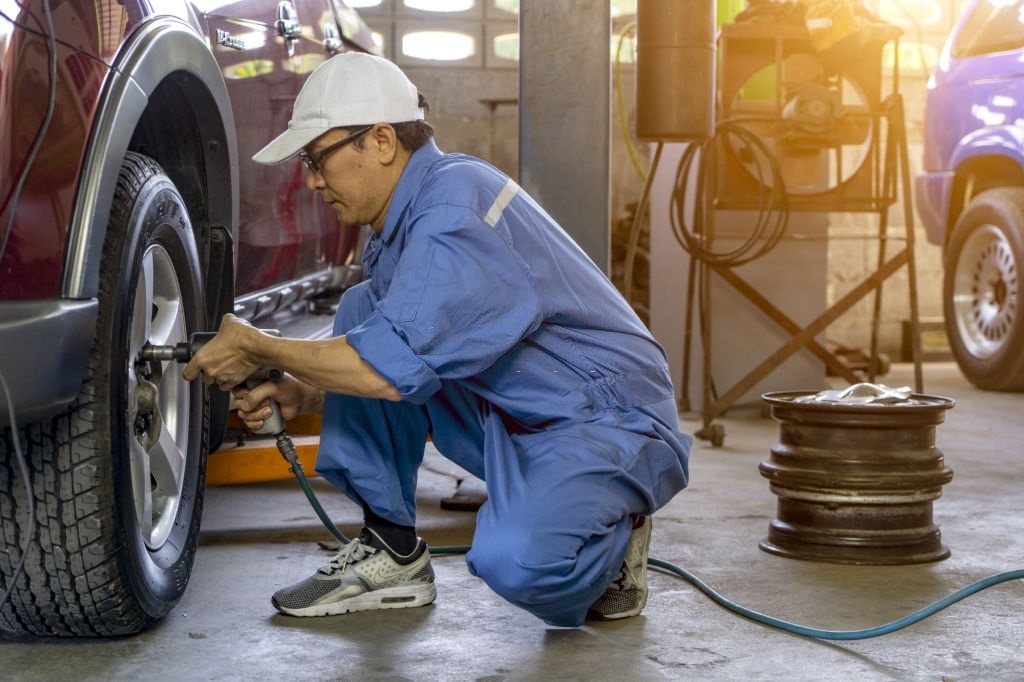 If you ever happened to change a flat tire in the middle of the road, you had surely once looked for the best impact wrench for changing tires, a better replacement for a normal lug wrench. 
Unlike those manual lug wrenches, the impact wrench is made to be a totally convenient and faster device for any vehicle repair or maintenance on the road. 
If you're on the search for one good impact wrench, we have conducted tests and summarized reviews to save your time. Keep reading for our list of top 5 impact wrench for changing tires.  
Top 5 Best Impact Wrench For Changing Tires 2021
1. DEWALT (DCF899HB) 20V MAX XR Cordless Impact Wrench Kit
This impact wrench from Dewalt features a powerful 20V brushless motor. It can generate up to 700 ft-lbs max torque and 1200 ft-lbs max breakaway torque. With this power, this tool can tackle any heavy-duty works. It also includes a 3-speed switch for users' control over the tool.
The DCF899HB model comes with the best design for an impact wrench. It is both lightweight and comfortable. With just a little more than 6 pounds, you have a tool featuring an ergonomic handle and LED light for dim settings. 
Dewalt is known for its products' durability, so as this tool. It has an all-metal transmission and one durable magnesium gearcase. All for the best durability one tool can offers. 
Pros:
Brushless motor

Durable and sturdy

Powerful and long-lasting
Cons:
No battery and charger included. 
This is considered one of the best impact wrenches for changing tires for a reason. You might love its power and longlasting battery life. 
2. PORTER-CABLE PCC740LA 1/2″ Cordless Impact Wrench
The Porter-Cable PCC740LA is rated as one of the best impact wrenches for changing tires. It is a powerful tool that produces 330 ft-lbs of maximum torque at the speed of 1,700 RPM, allowing users to tackle any heavy-duty applications. 
This impact wrench features a 4Ah Lithium-Ion pro-graded for long usage time and maximum performance. It even has a built-in LED light in case you need to work at night time or in dim settings. 
This model is strong enough to drive large fasteners or lug nuts as fast as possible, so the manufacturer includes a speed trigger so users can take control over its speed. They also make it lightweight and compact, at just 6 lbs and 10-inch long. 
Pros:
Compact and lightweight

Powerful mechanism

Affordable
Cons:
The charger included takes time to fully charge. 
This will be a perfect choice for anyone who wants a powerful impact wrench on a limited budget. 
3. Milwaukee 2767-20 M18 Fuel High Torque Impact Wrench
This model from Milwaukee features a brushless motor that can deliver up to 1000 ft-lbs of fastening torque and 1400 ft-lbs of removal torque. With that remarkable power, the tool has a 4-mode drive control including bolt removal mode, for users' ultimate control. 
The impact wrench operates on the RedLithium battery, which allows the wrench to deliver more work per charge and keep the tool durable. This model even comes with a Redlink Plus intelligence that avoids overloading or overheating, keeping the tool away from damages. 
This tool has a compact design at just 8.39", allowing users to work at ease in narrow spaces. It also features a premium rubber overmold casing to help it withstand rust and, at the same time, offer that extra comfort. 
Pros:
Brushless motor

Redlink Plus Intelligence

Redlithium battery.
Cons:
Highly recommended as the best impact wrench for changing tires, this model will exceed your expectations. 
4. Makita XWT11Z 18V Impact Wrench For Tires
The Makita XWT11Z 18V impact wrench features the BL brushless motor that can deliver up to 210 ft-lbs of max torque. It comes with a 3-mode power switch for the most precise control to meets any kind of application. 
Makita products are covers with Star Protection Computer Controls that allow data exchange between the tool and battery, as well as conditions monitoring. Thus, it helps the tool to optimize the battery and increase its run time. There is a built-in 3-stage LED battery gauge to show the battery level.
Meanwhile, the monitoring prevents the tool from overheating and over-discharging. 
This tool is designed to be compact at only 3.8lbs with batter and with a rubber grip handle, both for the increased comfort and lessened fatigue. 
Pros:
BL Brushless motor

Ergonomic design

3-speed control switch
Cons:
Not as heavy-duty as other top impact wrenches. 
Powerful and ergonomically designed, this impact wrench is perfect for almost every task. 
5. Ingersoll Rand 2235TiMAX Drive Air Impact Wrench
This powerful Ingersoll Rand impact wrench can deliver up to 1350 ft-lbs of removal nut-busting torque. It helps the tool to tackle any demanding application and any heavy-duty assembly or disassembly jobs. 
The model features a four-position power regulator and a one-handed forward/reverse button. Users can easily switch between different power modes according to the work, or adjust torque output to suit different kinds of tasks. 
Rugged design with a titanium hammer case, composite housing, and steel wear plate, this impact wrench can endure any harsh working conditions and heavy-duty usage. 
Moreover, this tool is both lightweight and compact designed. Weight only 4.6 pounds, this tool makes sure users can work for a long time without suffering from fatigue. 
Pros:
Heavy-duty

Four-position power regulator

Compact and lightweight
Cons:
Can be quite noisy sometimes. 
Powerful and relatively cheap, this can be the best impact wrench for changing tires you've ever known of. 
3 Types of Impact Wrenches
An impact wrench is best for tightening or removing lug nuts. It saves huge time and effort for any user, especially one who is always on the road.
There are three types of impact wrenches that now on the market:
Pneumatic Impact Wrench (Air-powered)

Corded Electric Impact Wrench

Cordless Impact Wrench
Each of these three types has different characteristics though they all work pretty similarly. However, a cordless impact wrench is now the newest and most popular option for its mobility and powerful performances. 
How To Find Best Impact Wrench For Tire Changing
With our reviews of the 5 best impact wrenches for changing tires, we hope you already have in mind which tool to get. Before you go out to make your purchase, we include in this post our buyer's guide to making sure you get the best tool for your tasks, the one tool that will never fail you. 
Torque
Torque is the first and foremost factor to consider while getting a new impact wrench. You will see most of the impact wrench in the market offer more reverse torque than their forward configurations. This is totally fine because the tool needs more torque for lug nut removal than it does with tightening. 
In general, more torque equals a stronger and faster tool. The majority of lug nuts need a tool with torque ranging from 75 to 160 ft-lbs for it to be removed. However, depends on your specific wheel size and material, or the lug nuts shape, the torque needed will be different. 
Pick an impact wrench with torque accordingly to your needs but make sure it is up to your tasks. Read the specifications carefully. 
Battery
For an impact wrench to be useful in emergencies in the middle of the road, you will need one with a strong battery that can last as long as possible.
If you come across an impact wrench with the old nickel-cadmium batteries, you need to remember this: it requires recharging 4-5 times per year to be usable. One biggest downside of this battery is the high self-discharge rate. 
Nowadays, the battery used in the impact wrench is mostly Lithium-ion batteries. Although it is more expensive than nickel-cadmium batteries, Lithium-ion batteries are lighter yet far more powerful and long-lasting. Moreover, the self-discharge rate of this battery type is much lower. 
Drill Voltage
The power of one impact wrench also depends on its drill power, which is measured by voltage. The more voltage, the stronger the tool. Based on your task scale, pick an impact wrench with the voltage correspondingly. 
The best impact wrench for changing tires will have drill power ranging from 18V to 20V. While you can get a higher drill power from 24-36V, it is recommended to stick to an 18-20V for a cordless impact wrench to remove or tighten lug nuts. 
Weight & Size
For the mobility of one tool to be the best impact wrench for changing tires, it should be compact and lightweight. Thus, this is one of the most important factors to pay attention to while making your purchase. 
Weight-wise, pick an impact wrench that is strong yet lightweight enough not to cause fatigue to your hand and arm while holding it. If your impact wrench is heavy, it might even damage your wrist if you need to use it for a long time. 
Size-wise, pick a tool that can fit perfectly into your toolbox or belt. Also, don't forget to check if it can be used in small spaces if your task requires it. 
Get yourself an impact wrench that is best for mobility as well as your body, especially if you'd need to use it on the go frequently.
Noise
There are some impact wrenches that could be irritatingly noisy. Thus, make sure to test them first for the noise factor before making your purchase. No one wants such a loud tool. 
FAQs
Question: Can an electric drill replace the impact wrench for tires?
Answer: No, it isn't advisable to do so. There are two main reasons you shouldn't replace an impact wrench with any other electric drill:
Electric drills are usually not as powerful as impact wrenches. 

Sometimes, electric drills might even unbolt fasteners if the fasteners are rusted.
Question: How much torque is required to tighten lug nuts?
Answer: It depends on the specific lug nuts you're working with. However, the average torque required usually more than 80 ft-lbs. 
Question: Which safety tips I need to consider while using an impact wrench?
Answer: Here are some safety notes you will need to keep in mind to ensure your safety while working with an impact wrench. 
Make sure to fasten your socket well and hold firmly onto the grip. The tool generates a lot of torque, no one wants a twisted wrist.

Use protection gear if possible. Better safe than sorry. 

Ensure your LED light is on when you're working in dim settings or night time, for a better vision.
Final words
A good impact wrench will be a huge life-changer for anyone who works on vehicles frequently. With our list of detailed reviews and buyer's guide, we hope that you can find the best impact wrench for changing tires accordingly to your needs and budget. 
Latest Impact Wrenches For Changing Tires On Amazon!
Affiliated links and Images on this post was last updated on 2022-09-12 via Amazon Product Advertising API.