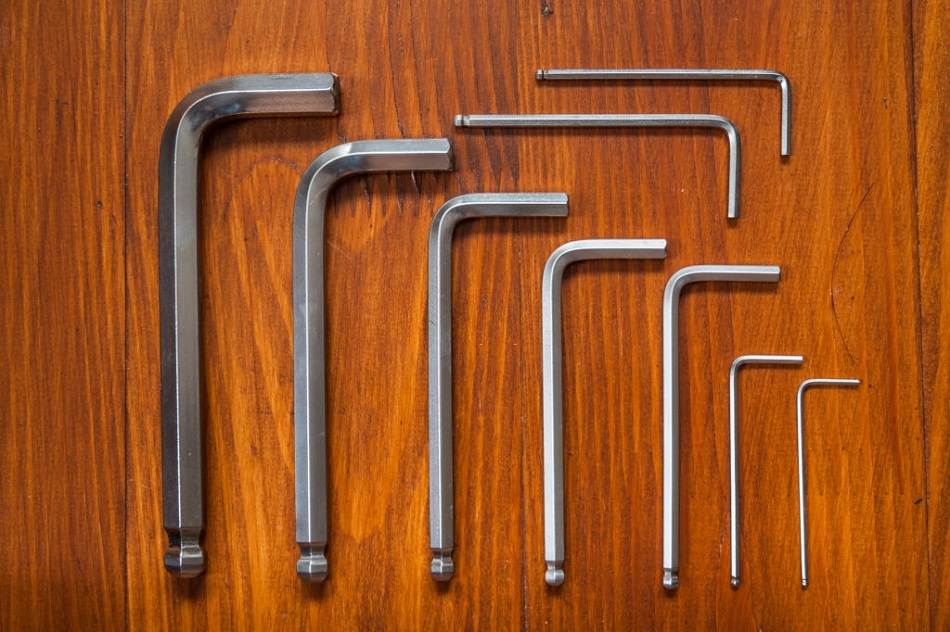 Allen wrench set, you might know them as other names like hex key or hex wrench. All of those names refer to the same small handheld tool with a hexagonal-shaped tip. It is used to tighten and loosen fasteners, or to drive bolts or screws with a hexagonal socket tip. 
Every engineer, mechanic, or household maintenance needs at least one best Allen wrench set in his toolkit. In the list below, we have compiled all the product reviews and do the research to help you saving time picking out the best Allen wrench set in the market nowadays. 
#1
TEKTON Hex Key Wrench Set,...
#2
Bondhus 20399 Ball End...
#3
Stanley STHT71839 Folding...
#1
TEKTON Hex Key Wrench Set,...
#2
Bondhus 20399 Ball End...
#3
Stanley STHT71839 Folding...
Top 5 Best Allen Wrench Sets 2021
1. TEKTON Hex Key Wrench Set 25253
The best thing you'd love about this set is its versatility. The set includes 30 pieces of Allen wrenches with the most common Allen wrench sizes. It allows users to work with a variety of different hex bolts with just one single tool. 
All Allen wrenches in this set are made from heat-treated steel to offer that durable and sturdy construction. They are then coated with a black-oxide cover to offer rust-resistant and prolong their year of services. 
This TEKTON Allen wrench set comes with a foldable case that can open flat like a book. This feature makes things easier for users to identify and pick out their specific desired wrench. You will also be sure of the wrenches securely kept in place. 
[sc name="amzl" asin="B00I5TH074″]
Pros: 
Versatile

Handy storage case

Affordable price
Cons:
The smaller wrenches can be flimsy. 
The versatility and affordable price make this set one of the best Allen wrench sets in the market.
2. Bondhus 20399 Ball End L-Wrench
As another versatile set, this Bondhus 20399 Allen wrench set comes with 22 different-size pieces. 
All these wrenches are made from special tempered Protanium steel, giving it the best sturdiness one tool can have. You can do more torque without worrying the wrenches might be twisted or broken.
These steel wrenches feature exclusive BriteGuard and GoldGuard finishes that prolong the life of the tool. Besides, the wrench ends are designed with a patented ball drive, allowing users to reach into narrow and blind spaces that normal wrenches can not.  
The set is packaged with a patented Bondhex tool case with clear markings of size for each wrench. You can slide the wrenches into their own marked slot and twist them to have them securely locked. 
[sc name="amzl" asin="B00132CGTW"]
Pros: 
Impressive aesthetic craftmanship

Sturdy construction

Lifetime warranty
Cons:
This Bondhus toolset, with its premium quality and extraordinary durability, is highly recommended for best Allen wrench in the market. 
3. Stanley STHT71839 Folding Metric and Sae Hex Keys
This Stanley folding Allen wrench is perfect for occasional and minor projects, especially maintenance work around the house. It is also designed as a folding tool, offering users that compact and handy feeling. 
With rubber inserts sideways, the tool gives users a secure grip yet still comfortable while working with it. Besides, each wrench features a chamfered edge so it can easily slide in and out of the hex key. Size marks are printed on the key body for those wrenches to easily be identified.
This model comes with a total of 17 different pieces of wrench separated into 2 sets for inch and metric keys. 
[sc name="amzl" asin="B00D4C18CU"]
Pros: 
Compact and handy design

Rubber grip for comfort

Size markings on each key set. 
Cons: The wrenches are not really sturdy, not suitable for tough work. 
If you don't need to work on heavy-duty tasks, this will come as a good handy option for its price.
4. AmazonBasics Hex Key Allen Wrench Set with Ball End – Set of 26
AmazonBasics Allen wrench comes with a set of 26 wrench pieces. This set gives users the versatility to work with a wide range of hex bolts or hexagonal-head screws. 
All the Allen wrenches included are made of heat-treated chrome-vanadium steel with black-oxide finish coated. This feature offers long-lasting anti-corrosion as well as ultimately sturdy wrenches. They are made to tackle any heavy-duty tasks. 
This model features 2 secure storage cases with a hinged design, which can be folded in half or open out flat. Each slot on those cases is marked with a clear size marking. You will have easy time access to the tool and identify the needed size. 
[sc name="amzl" asin="B0776C2D6H"]
Pros:
Heat-treated durable material

Ball end design

Versatile.
Cons:
The wrenches have oily smells according to some users.
For its sturdily made and super affordable price, it's worth its place in the list of best Allen wrench sets. 
5. REXBETI Hex Key Allen Wrench Set
Rexbeti Allen wrench set features 35 pieces, including 13 wrenches in SAE, 13 in metric, and 9 star-size pieces. All of these Allen wrenches are heat-treated and made from S2 steel, offering the ultimate strength and excellent performance that no other competitor can do.
This Allen wrenches in this set have a T-Handle design that gives users that extra comfort and maximum torque. This design also helps to reduce the pressure point if you use the tool continuously.  
The set comes with 3 separate pieces: one holds the SAE wrenches, one for metric size, and the other is for star-size wrenches. The storage is made to give users easy access to the wrenches, with clear size markings for each wrench. 
[sc name="amzl" asin="B07FT54Y7M"]
Pro: 
Robust construction

Heat-treated S2 steel

T-handle for a comfortable grip.
Cons:
Some of the wrenches are said to be out of spec. 
This set is known as among the best Allen wrench set for its versatility and sturdy construction. 
How to Choose The Best Allen Wrench Set
While Allen wrenches are made to get the job done at ease, the right Allen wrenches will give you the best results and more efficiently. We have gathered all the information about Allen wrenches to offer you this buyer's guide so you can be equipped with tips on getting the best deal for your purchase. 
Here are some features you should pay attention to while shopping to get the best Allen wrench set. 
Durability
The best Allen wrench set will come with the most durable material. You will need to look for those materials like high-grade or heat-treated steel, or chrome-vanadium metal. Anything that is durable and not brittle. 
Before you decide on any Allen wrench set, look up the reviews of that specific set. Make sure you pay attention to those reviews especially of those smaller size wrenches, as they are usually the most fragile ones. 
Besides, you should also definitely check on the coating of those Allen wrenches. Most of the highly-rated sets are often coated by a black-oxide finish to avoid it from rust and corrosion. The coat will help prolong the keys' life, helping you to keep the tool for many years of service. 
Number of wrenches
Depends on the type of job you're working on, or your professional level, the number of Allen wrenches will be different. 
If you're just working on electronic or around-the-house jobs,  you don't necessarily need to own so many wrench sizes. However, if you work in a wide range of maintenance jobs, it's ideal to get yourself a set with a variety of wrenches. 
Measuring systems
The two most common measuring systems available for Allen wrenches in the market are SAE or Metric. SAE is also known as imperial, or for you to understand, it's inches. 
An Allen wrench set manufactured from outside of the US usually marked with metric units, instead of SAE. Users might need to buy for another different set of SAE wrenches. 
Thus, try to get yourself a set that includes both of the measuring systems. They come as 2 separate packs, one for SAE and one for metric units. 
Chamfered or Non-Chamfered Edges
Recently, some Allen wrench sets in the market feature chamfered hex keys. 
Unlike the normal ones, Chamfered Allen wrenches are designed to be slightly rounded at the end. This allows the wrench to easily slide into those hard-to-reach and blind slots. It also lessens the chance of damaging screws or bolts while being inserted or removed out of the tools. 
Another level of chamfered Allen wrenches is ball-ends. This kind of wrench end allows users to slide into a screw from many different angles, offering the flexibility everyone loves. However, it poses more potential to slip under pressure more than any other type. 
On the other side, non-chamfered Allen wrenches have square ends, making them more likely to damage weak screws. However, for the same square end, this type of wrench is able to deliver much more rotational power than the above-mentioned. It's hard to slide into slots but once it's in, it gives users the best tool to tighten and loosen bolts.
Length
The longer the Allen wrench is, the more useful and powerful it becomes. Long Allen wrenches can reach deep narrow places, which is impossible for shorter wrenches. In other cases, the biggest advantage of long Allen wrenches is that users will produce more force, helping you get the job done much more efficiently and faster.  
Storage case
Don't overlook the storage case. The best Allen wrench set sometimes comes with the best storage case, although this isn't applied for all. However, having a case will do you more benefits than you think. 
Your set will be securely stored, no matter it is a folding case or a hinged one. You will have an easy time identifying and picking out the desired wrench.  
Frequently asked question
Question: What is the difference between an Allen wrench and a hex key?
Answer: The two are actually the same tool. The Allen wrench is invented by William G. Allen for his Allen Manufacturing Company in the early 1900s. The company focuses on produce hexagonal screws and wrenches to fasten those screws. The wrenches are then named after the owner, Allen wrench. 
After that, other companies started to manufacture the same kind of wrenches, and that's when the name "hex keys" exists. 
Question: Which one should I get, chamfered or non-chamfered edge Allen wrench?
Answer: Although the non-chamfered edge will be more powerful in some cases, a chamfered edge is still preferred by many people. It really does a great job to help the wrench easily slide into screws, which will help you work the tool at ease. 
Final words
There is no one ultimately perfect wrench set for everyone for each of us has different needs and preferences. Thus, evaluate your own preferences and your tasks' requirements to get the best Allen wrench set for yourself. 
With all of the information above, we hope you already have enough product knowledge and have the understanding you need to find the right set for you.
Bonus: Allen Key Trick
Check Out Latest Allen Wrench Set BestSelling On Amazon!
Affiliated links and Images on this post was last updated on 2022-09-12 via Amazon Product Advertising API.