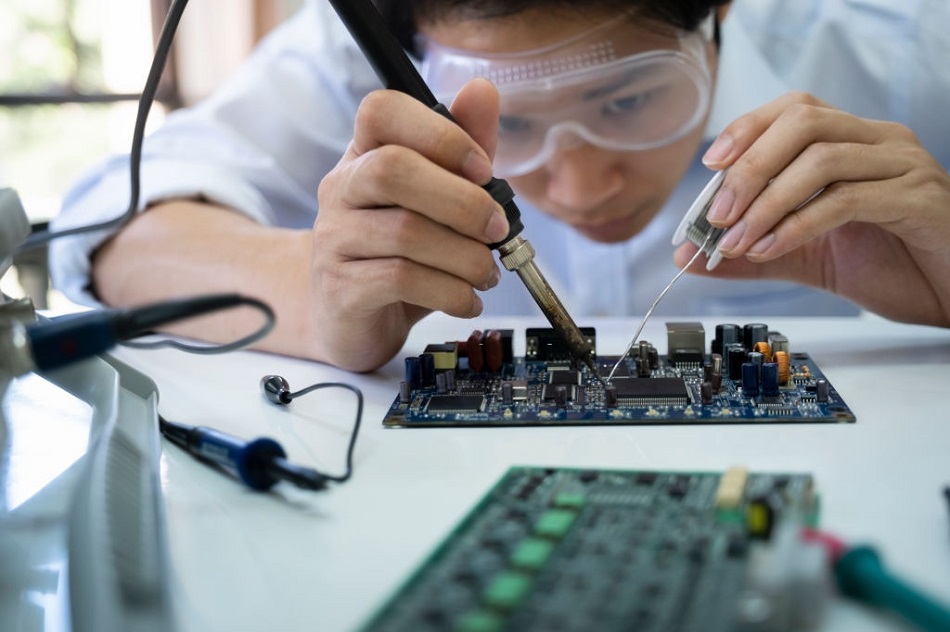 Soldering irons are tools that supply heat to a metal rod, in order to melt solder. The solder will then be able to flow into the joint between work-pieces creating a connection (on a circuit for example). Even though this tool may seem like it's relatively simple, there are many different types with unique features.
#1
Weller WLC100 40-Watt...
#2
X-Tronic Model #3020-XTS...
#3
Weller WESD51 Digital...
#1
#2
X-Tronic Model #3020-XTS...
#3
In order to help you choose the best soldering iron for electronics, or for whatever your niche is, we've compiled some of the top things you ought to consider before you go ahead and purchase your new tool. Finding the soldering iron that suits you comes down to things like whether you need a high-quality one, or if you're on a budget.
        READ: The Different Types of Soldering Iron Tips
Browse through the summary from ToolzChannel below for a quick overview of the different features, and read on if you want to know more.
5 Best Soldering Irons For Electronics 2021
[sc name="amzl" asin="B000AS28UC"]
The Weller WLC100 40-Watts Soldering iron station is an all-around great tool in terms of price and quality. It has the ability to produce and hold up to 900 Degrees Fahrenheit temperatures. So it's able to handle a wide variety of projects that require high tip temperature.
The Weller ST3 certified copper tip is crucial to keeping the temperature stable and consistent. The tip is coated with iron, chromium, and nickel which helps to keep corrosion at bay and keep the tool reliable in the long run. As far as ergonomics are concerned this soldering iron is excellent. The handle is cushioned with foam making the WLC100 very comfortable to use for long time-frames.
The power controls on this soldering iron function well, allowing you to adjust the power from precisely 5 watts to 40 watts with an analog control knob located on the base unit. Overall a good choice for those interested in soldering as a hobby or for professionals on a budget. One downside to consider is that this model does not feature a digital readout of any kind.
[sc name="amzl" asin="B01DGZFSNE"]
The X-Tronic 3020 soldering iron is a well priced, and very high quality 75 Watt beast. It goes above and beyond what the cheaper models offer, with many additional features. The 3020 suits the needs of the beginner just getting started with soldering, through to the expert needing top of the line products.
The first feature you will see when you examine this soldering station is the bright blue LED adjustable temperature display. It also features a sleep timer, as well as a switch to alternate from Fahrenheit to Celsius depending on which measurement you prefer. The soldering iron itself has a particularly ergonomic grip, which also happens to be heat resistant for optimal comfort.
This station has another fantastic temperature control feature which keeps the soldering tip at the right heat. It's called "Magic Temperature Compensation Technology". The program works by cycling every 20 milliseconds to check on the temperature of the element (soldering irons tip). If it's too hot or cold it rapidly corrects to the right temperature. All in all, the X-Tronic 3020 is a brilliant machine suitable for anyone who needs a good soldering iron. The bonus is that it's surprisingly well priced.
[sc name="amzl" asin="B000ARU9PO"]
The WESD51 is a soldering iron sure to get any soldering job done well. The electronic control system the WESD51 has makes it one of the best soldering irons out there. The operating temperature of this iron is adjustable from 350 to 850 Degrees F and is highly precise (accurate down to nine degrees).
This is a particularly well made and innovative soldering iron, one feature that demonstrates this well is the wireless temperature lockout system. This lockout system provides a means to ensure that the temperature is not raised above what is considered safe for a particular work environment or job. This removes the danger of damaging delicate components by operating at a temperature too high for the parts you're working on.
When it comes to heat control this soldering iron has it down to a tee. The built-in sensor/heater combined make heat-up times and maintaining the perfect temperature spot-on. It should be noted that although this is a good soldering iron, it is a bit on the pricey side of things.
[sc name="amzl" asin="B00ANZRT4M"]
This soldering iron from Hakko comes equipped with everything you need, whether you're a beginner or a pro. This soldering iron uses special t18 series tips that have high heat conductivity. These tips reduce oxidation (meaning your tips last longer before needing to be replaced), they also help ensure fast heat-up times. It takes about 20 seconds to get up to full heat, ready for work. This soldering iron also features a digital display as well as an additional cleaning sponge. A quality tool, no doubt. However, not our top pick because it's a bit pricey for how many features it has.
[sc name="amzl" asin="B00LLHPIG2″]
The Delcast 30 Watt soldering iron is a decent soldering iron for electronics if you only need a cheap machine to use infrequently. At only 30 Watts this is very low in terms of power, so heat up times are slow. This is a basic soldering pencil and nothing more, perfect if you're on an extremely tight budget – but not if you need high quality or plentiful features. So, buy this if you need something very cheap to get the job done.
Factors You should be aware of when shopping for a Soldering Iron
Wattage
The wattage of the soldering iron is important to consider. In most cases you will find that the wattage sits around 20 – 60 Watts. 50W is a common wattage for many soldering irons as it ensure enough heat for most soldering projects. Usually, the higher the wattage, the better a soldering iron performs – but this isn't necessarily always the case.
If a soldering iron has a higher wattage it doesn't actually mean it provides more heat, it just means that it has more power available. For instance, a soldering iron with low wattage (~20W) will lose heat much faster than it is able to re-heat itself. This a common issue with cheap and poorly made soldering irons.
Temperature Control
Temperature control is an absolutely crucial feature in any good soldering iron. Generally, soldering irons have one of three types of temperature control. The first is those with no temperature control, these are cheap and honestly not very good as you could end up damaging components. But if you only intend to use them for household soldering projects they should be fine.
The second style is the temperature-controlled soldering iron. These allow you to keep the tip at its optimum operating temperature. The third style, which all the best soldering irons tend to have, is temperature control with a digital display. Having the temperature on a digital display is a huge advantage.
Tip Compatibility & Replacement
Because tips wear down over time the tips should be easily replaceable on the soldering iron you choose. The best soldering irons tend be compatible with many different tips. This is handy not only for when tips break down, but for using special tips for specific jobs.
Which Type of Soldering Iron
Another important factor to consider before buying is the type of soldering iron you need. There are, broadly speaking, four main types of soldering irons. The basic soldering pencil style, soldering stations, soldering systems, and soldering gun. Soldering pencils are usually very simple and lack basic features like temperature control. They're a good option if you're on a very tight budget, and don't need the best model for your work.
Soldering stations are more common, and ultimately much better than a plain old soldering pencil. Soldering stations are basically a soldering pencil attached to a power station which provides additional features like temperature control, and an LED temperature display. Soldering systems are complex tools mostly only used in the industry or for manufacturing. Soldering systems consists of multiple tools like the soldering pencil, hot airgun, de-soldering gun, and tweezers.
Soldering guns are transformers that convert 110 V AC current to a much lower voltage, they can also be quickly turned on and off, with a short warm up time. Of these four different styles of iron, the best soldering iron for most people is the "station" design as it provides much more advanced features than the other types.
Conclusion
The top soldering iron recommendation is the Weller WLC100 soldering iron. due to its high-quality feature roundup, coupled with its reasonable price. However, you should consider what your individual use case is, as the best soldering iron for a hobbyist may not be the best for a professional.
Resources: https://en.wikipedia.org/wiki/Soldering_iron
Bonus: Quick Look on Weller WLC-100
Affiliated links and Images on this post was last updated on 2022-09-12 via Amazon Product Advertising API.