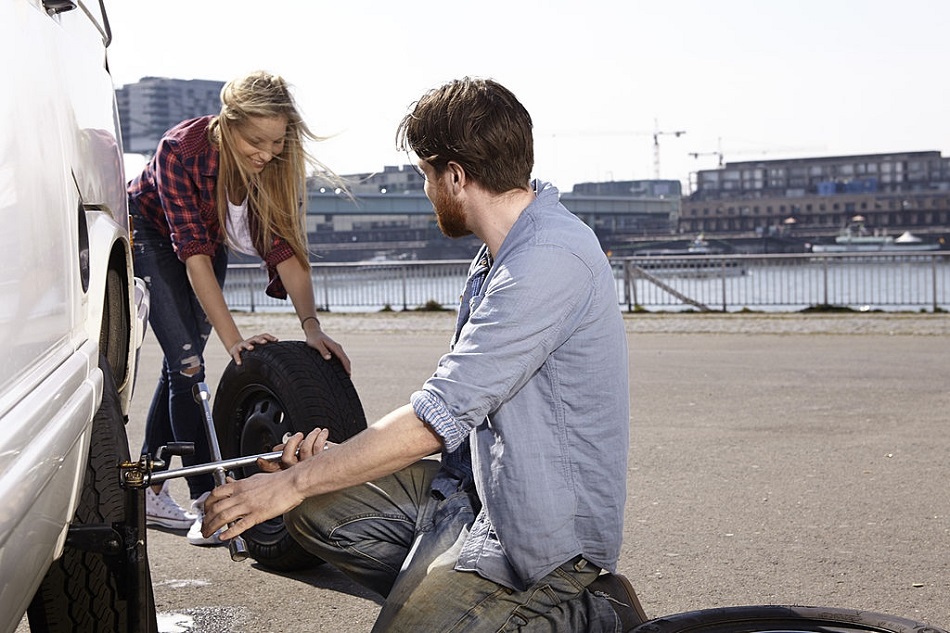 A lug wrench for tires is everyone's best hardware on the road to aid them in case of tire changing or repairing. The best lug nut wrench is, indeed, a lifesaver on the road as it saves people's time and effort used to remove lug nuts.
If you happen to look for a lug nut wrench for your roadside work, take a look at our list. We have compiled all information and reviews about the 5 best lug nut wrenches in the market nowadays.
#1
Cartman Telescoping Lug...
#2
Gorilla Automotive 1721...
#3
Powerbuilt 940559 20"...
#1
Cartman Telescoping Lug...
#2
Gorilla Automotive 1721...
#3
Top 5 Best Lug Wrenches For Tires 2021
1. CARTMAN TL120404 Telescoping Lug Nut Wrench – The Best Tire Lug Wrench
The Cartman TL120404 is one best lug nut wrenches for everyone, especially first-timers.
This tool comes with 4 different sockets ranging from 17mm to 22mm, allowing users to fix the wheels of most cars. Each socket, made of hardened steel, is labeled with its respective size for easier identifying.
The model features a compact design at 14 inches for easy storage. Yet the telescoping handle can extend up to 21 inches for maximum leverage. 
Moreover, the handle is anti-slip to give users a comfortable and firm grip on the tool. It is also chrome-plated to prevent the tool from corrosion and a reinforced center for extra strength provided.
Pros:
Extending handle

4 sockets included

Comes with a carry bag for storage
Cons: The additional 4 sockets are not really deep enough for some users. 
With an affordable price, you will be surprised at how high-quality this wrench is. It can assist you in any average roadside repairing tasks. 
2. Gorilla Automotive 1721 Telescoping Power Wrench – Best Telescoping Lug Wrench
This Gorilla Automotive lug wrench is a telescoping type, which can be extended to 21 inches for use and shrink down to 14 inches for easy storage. The product also weighs 2.7 pounds, saving users from a bulky heavy toolbox.
The tool is made from hardened steel with precision construction. It is extremely strong and durable to tackle any heavy-duty lug nuts work with minimum effort. It includes a spring-loaded locking mechanism for easily be extended when in need. 
Moreover, this model features a contoured handle for anti-slippery and anti-fatigue while using. The lug wrench comes with a polybag for convenient storage and secure protection. 
Pros:
Durable and sturdy construction

Double-sided sockets

Polybag included for storage.
Cons: A bit expensive.
ON SALE
This is considered as one best lug wrench obviously for its convenience of easy storage and extending design, as well as its super-durable construction. 
3. Powerbuilt 940559 Universal Wheel Nut Wrench – Best 4 Way Wrench For Lug Nut
This lug wrench from Powerbuilt made from carbon steel material, chrome-plated, and fully polished. This factor does not only help maximize the lug wrench's lifespan but also enhances the attractive solid look. It will even allow the wrench to withstand rust and corrosion. 
This tool comes with 4 sockets, allowing users to work with 4 different lug sizes ranging from 17mm to 22mm. All of these sockets are standard size, so you can handle almost all the automotive jobs. 
The Powerbuilt 940559 Universal Lug Wrench, being a cross-style wrench, gives users a 4-way wrench tool. Hence, the versatility. Despite the cross design, this tool features an option of 14-inch arms that are compact enough for easier storage. 
Pros:
Sturdy construction

4 lug sizes

Lifetime warranty
Cons: The arms are not padded, which might cause fatigue or uncomfortable. 
This solid tool at an affordable price will be an excellent choice for anyone looking for the best lug wrench. 
4. EPAuto Telescoping Lug Nut Wrench – Best Lightweight Lug Wrench
The EPAuto Telescoping lug wrench features outstanding durability and sturdiness. It is made from hardened, treated Chrome Vanadium steel alloy (Cr-V). This allows the tool to tackle any kind of bolts and nuts at ease, even the most heavy-duty ones. 
This model with its telescoping design can be extended to 19 inches for maximum leverage and collapse to 13 inches for easy and compact storage. There is also a convenient bag added to the lug wrench for better preservation of the tool. 
The lug wrench from EPAuto comes with 4 different sockets, respectively 17mm, 19mm, 21mm, and 22mm. All of these standard-size sockets will help users handle a wide variety of applications. 
Pros:
Sturdy and Durable

Telescoping design for easy storage

Lightweight (2.3 pounds).
Cons: The sockets are not deep enough or can't fit the small lug nuts.  
ON SALE
Heavy-duty, long-lasting (and cheap), this tool is the best lug nut wrench for any mechanics or starters out there. 
5. EPAuto 14″ Heavy Duty Universal Lug Wrench – 2nd Best Star Lug Wrench
Another product comes from EPAuto, a brand well-known for its effective and easy-to-use automotive tools. This time is a cross-style lug wrench. 
This model features solid and sturdy construction as it is made from forged and heat-treated carbon steel. This offers outstanding strength to tackle any heavy-duty automotive tasks. The product is chrome-plated as well, for it to withstand any rust or corrosion. 
The lug wrench comes with 4 socket heads from 17mm to 22mm, which can fit almost every common lug nut size. Moreover, the arms of this wrench are just at 14 inches, compact enough to store in any place, even small trunks. 
Pros:
Sturdy, Anti-corrosion

Compact size for easy storage

4 sockets included.
Cons: Not big enough for heavy-duty work.  
EPAuto 14" Heavy Duty...
Durability: Made from Forged heat...
Corrosion-Resistant: Chrome Plated
14 inches body length for easy...
Cheap and compact design yet this lug wrench still features a sturdy and durable construction. Worth its place in this list of best lug wrenches. 
How to Find The Best Lug Wrench in 2021
Lug wrenches are one of the essential mechanical hand tools for any garage or roadside works but usually are the most to be neglected. The best lug nut wrench will help you much more than you think. It can last for a long time, comfortable on hands to avoid fatigue, and strong enough to tackle all the tasks needed to get done. 
With so many lug wrenches available on the market nowadays, it's hard work sometimes to really pick out the best lug wrench for your own. Understand that factor, we attach here our buyer's guide to help you. These are a few things you should pay attention to when getting a new lug wrench. 
Type of your vehicle
Which vehicles you are using?

Which type of lug nut does it feature?
Knowing well about your vehicle parts will be the first step to get yourself the best lug wrench. Lug wrenches available in different sizes and types, thus, each one will fit differently to different vehicles and different sizes of lug nuts. 
If you own a car or small trucks, you might opt for small, thin-wall wrenches. Those can be used in narrow spaces. In contrast, if your vehicle is big, you should consider a more heavy-duty one. They will be deep and strong enough to handle those big wheels.
The best lug nut wrench will be the tool that can handle your vehicle's wheels and fits to work with its lug nuts. 
Material
After confirming the size and type of lug wrench needed for your work, the material is another essential factor to be considered. It will determine whether your lug wrench is strong and durable enough for the work. 
Steel is nice, but sometimes chrome-plated or heat-treated chrome vanadium is a much better option. 
Sockets
The majority of lug wrenches in the market now come with a set of different-size sockets. Thus, you might consider picking those sets so you don't have to buy new separate sockets. 
The sockets included with the wrench are often all standard size (namely 17mm, 19mm, 21mm, and 22mm), allowing the tool to fit with almost all kinds of lug nuts. This is the versatility you can have once purchase a lug wrench set. 
Handle length – Lug nut wrench extension
The handle plays a vital role in your comfort while using a lug wrench. 
A longer handle offers more pressure and more leverage for maximum torque, so your lug wrench can tackle heavy-duty lug nuts at ease. Meanwhile, a short handle or short arm length keeps the wrench compact for easy storage, hence, the portability. 
Pick a lug wrench that suits the scale of your work, and fits the storage area in your garage or trunk. 
Grip
Aside from the length, the grip also contributes to the comfort and safety of users. 
The best lug nut wrench is the tool that features a handle that offers both a firm grip and a comfortable handle. This handle is often padded or rubberized. 
This factor will ensure you have a safe time working with the lug wrench while still keeping your hand away from fatigue. 
FAQs
When do I need to use a lug wrench?
Just like its name, a lug wrench is ideally used to remove lug nuts. It's a lifesaver in any case of roadside incidents that needed to change tires. Or some people will also prefer to have one lug wrench in their home garage, for times they need to change a flat tire before heading out. 
How to loosen a lug nut?
If you're the first-timer to try changing a tire, here are some steps to loosen a lug nut:
Park your car in the desired place, make sure to set the brake to parking.

Remove the hubcap (if any) to access the lug nuts. 

Place your lug wrench on a lug nut and turn it in the counter-clockwise direction. (The universal rules for any screw, bolt, or nut: counter-clockwise to loosen and clockwise to tighten). 

Repeat the same step to the rest of the lug nuts, it doesn't matter which one you loosen first. 
Why does my lug nut get stuck and what should I do to remove it?
There are many reasons a lug nut gets stuck but most of the time it is because of corrosion or rust. Sometimes, over-tightening might also cause a lug nut to be stuck. 
If you got into this situation, here is what you should do:
Make sure your vehicle is set to park. Stuck nuts require more strength and leverage to be removed so you wouldn't want your car to move in the meantime. 

Break off the rust part. 

Apply penetrating oil around the nut. Leave it there for a while for the oil to soak in (at least 10 minutes if you are in a hurry). 

Try to remove the lug nut again. 
What is the most common lug nut size: 17mm, 19mm lug wrench, or 21mm lug wrench?
There are 4 standard lug nut sizes: 17mm, 19mm, 21mm, and 22mm. If you have these 4 sockets, you can already tackle more than 90% of any tasks needed a lug wrench. 
Final words – Your Best Tire Wrench?
Finding the best lug wrench for your garage or your roadside wheels tasks might be tricky sometimes as there are so many products available in the market recently. With our top 5 product reviews and the buyer's guide, we hope you now have enough information to get yourself a lug wrench that meets all your needed and requirements.
Bonus: How to Remove a Stuck Lug Nut
Check Out Latest Lug Nut Wrenches BestSeller ON SALE!
Affiliated links and Images on this post was last updated on 2022-09-12 via Amazon Product Advertising API.