While everyone is used to full-size tools for heavy-duty jobs, a pocket screwdriver is eventually taking its place in the market nowadays. While the full-size screwdrivers are usually big and bulky, pocket screwdrivers are made to be stored perfectly in a shirt pocket or tool belt bags.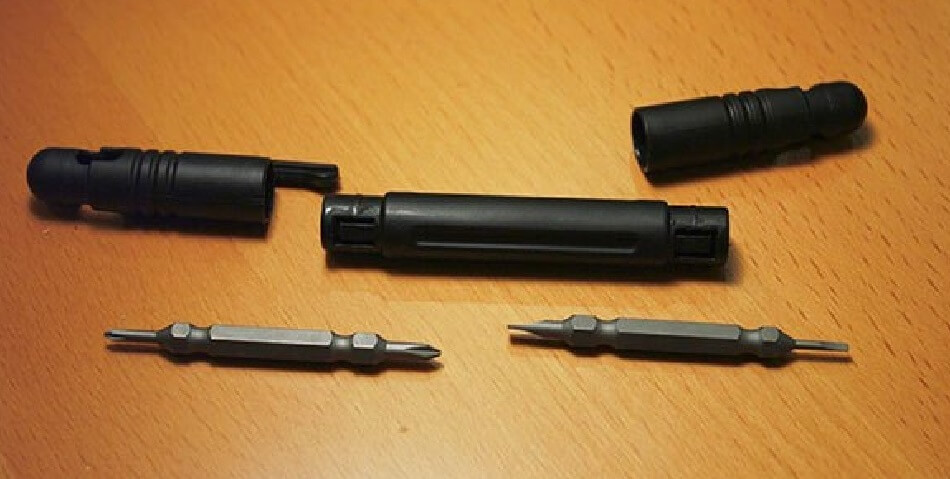 Convenient and handy, it is understandable why a pocket screwdriver is considered a must-have in every household. Everyone should have at least one pocket screwdriver in their toolbox. 
There are many pocket screwdrivers available in the market recently. It's getting crowded, and it's hard to pick out the best one for your needs. Therefore, for you to avoid hassles reading all the reviews, we're here to help.
Take a look at our list of the 5 best pocket screwdrivers below. 
#1
Maxcraft 60609 7-In-1...
#2
STANLEY Screwdriver, 4-in-1...
#3
Klein Tools 32535 10-in-1 10...
#1
#2
STANLEY Screwdriver, 4-in-1...
#3
Klein Tools 32535 10-in-1 10...
Best Pocket Screwdrivers 2021 Reviews
#1 Maxcraft 60609 7-In-1 Precision Pocket Screwdriver
Speaking of strength, there are hardly many pocket tools that can compare to this screwdriver from Maxcraft. Made of aluminum, this tool is remarkably durable yet still light on the hand. 
This model is designed as a pen with a clip attached on the side so you can easily clip it on your pocket or shirts. The pen is also hollow for storing bits inside, making it so handy and convenient. 
The tool features a magnetic bits holder, which will ensure the bits are securely kept. It can also help users pick up the small screws that can easily fall into small narrow gaps.
The Maxcraft pocket screwdriver comes with 7 bits, which fits for any repairing work from laptops, PCs, to other electronic devices. 
Maxcraft 60609 7-In-1...
Rugged aluminum pen-style housing...
Quick-change magnetic bit holder
Convenient bit storage in handle
Pros:
Onboard bit storage
Sturdy construction
Lightweight
Cons: Bits could get stuck in the barrels. 
Conclusion: Generally speaking, this is the best pocket screwdriver that surely will never fail your expectations.
#2 Stanley 66-344 4-in-1 Pocket Screwdriver
The Stanley 66-344 comes with two double-ended bits, giving you the option to tackle tasks with four different types of screws with just one single tool. 
With the bits magnetized with non-slip texture, the tools ensure users can pick up and hold onto screws with ease. It is claimed to be perfect for small applications such as toy assembly, battery or electronic components, and even eyeglasses. 
The handle of this tool is manufactured with a soft, rubber grip wrapped around a plastic frame. This will lessen the strain and fatigue on your hand. 
The pocket screwdriver's design is compact and lightweight with the size of a pen. It is easy to bring along for any occasion. 
ON SALE
Pros:
Magnetic and non-slip textured bits
Compact design
2 double-ended bits included.
Cons: Not ideal for heavy-duty work. 
Conclusion: With an affordable price, this is a pretty handy and useful pocket screwdriver for your repairing work around the house. 
#3 Klein Tools 32535 10-in-1 10-Fold Screwdriver
The Klein Tools 32535 10-in-1 10-Fold comes as a folding pocket-knife design that can unfold and lock at a 180-degree angle to become a straight screwdriver. This helps users to have a better hold of the tool while using it. 
The tool is designed with a liner-lock so it can be locked tightly as it folds. It helps to keep the blades securely and to save space in your toolbox. 
This pocket screwdriver has a set of 10 interchangeable bits, which includes 8 screwdriver sizes (as in 4 double-ended bits) and 2 nut drivers (at the 2 ends). Those blast-finish steel bits ensure durability, long-lasting, and cam-out reduced as it holds firmly to the fastener.
Pros:
Folding knife-style design
High-quality material
Blast-finish steel bits.
Cons: The blades might not be locked securely while folded in.  
Conclusion: This is a good sturdy pocket screwdriver for anyone who loves to have a versatile, convenient all-in-one pocket-sized tool.  
#4 General Tools 744 Pocket 4-in-1 Mini Screwdriver
The General Tools #744 pocket screwdriver comes with 2 double-ended blades. Both blades are made of chrome-vanadium and held in a reversible carrier which fits perfectly in the handle when in use. This ensures no blades falling off. 
Designed as a compact pen-style tool, this pocket screwdriver is ideal for any small to medium repair tasks. From household applications, electronics, small appliances, to other computer components, this tool can tackle them all. 
Having two double-ended blades means that you will have 4 different types/sizes of blades for different purposes. Hence, the convenience and versatility. The tool also has a removable cap to prevent your pocket to be torn or pierced by the blades.  
General Tools 744 Pocket...
INCLUDES 4 BLADES- two double-ended...
NO FEAR OF LOSING BLADES- unique...
EASY TO USE- swap blade sizes with...
Pros:
Folding knife-style design
Well-made, high-quality material
Blast-finish steel bits.
Cons: The blades might not be locked securely while folded in.  
Conclusion: This pocket screwdriver is a great useful tool for all of your light-duty jobs.  
#5 Topsma 8-in-1 Pocket Screwdriver
This 8-in-1 pocket screwdriver from Topsma comes with a set of 8 premium quality screwdriver heads. It comes in handy when you need to deal with a variety of screws. 
The bits are magnetized, helping them pick up and hold onto the screws, especially small ones, with ease. All those bits are stored securely in built-in storage inside the handle.
This pocket screwdriver is made of rugged aluminum, for its durability and sturdy construction. This tool is compact, lightweight yet firm enough for you to carry around any time. 
Topsma ensures 100% satisfaction guaranteed for this product. With a small price tag, you still can be sure your tool will always be taken care of if any problem occurs. 
Pros:
Pen-style design with pocket clip
Premium aluminum material
8 different bits.
Cons: The grip could be too short for some people.  
Conclusion: Lightweight, versatile and heavy-duty, this pocket screwdriver will not let you down. 
Pocket Screwdrivers Buyer's Guide
Along with our list of the 5 best magnetic screwdrivers, we include this buyer guide to make sure you will make the most of your purchase for a new pocket screwdriver. Therefore, here are some important factors you'd need to know to pick the right and good-quality pocket screwdriver. 
Weight vs. Strength
Obviously, when picking up a pocket-sized screwdriver, you will notice the tools' weight first and foremost. However, it is important to know that you don't have to give up on the strength to get the most portable tool. Nowadays, there are many pocket screwdrivers made of lightweight materials in the market, such as aluminum, which is both lightweight and sturdy. So rest assured that you can have a lightweight tool but still can manage to do heavy-duty jobs.
Interchangeable screwdriver heads
The more different heads included in the package, the more versatile the screwdriver becomes. It ensures you can tackle a variety of repairing or application jobs without having the burden of so many individual tools. 
You won't have to keep so many tools just for different screwdriver heads. All you need is a screwdriver with interchangeable bits included, there you go, versatile. 
Screwdriver bits
Depends on the application you're undertaking, you should pick the right screwdriver bits to fit that application. Here is a list of 3 most common types of bits and where it is normally used for. 
Torx bits: Torx bits are one of the strongest and best at wear-resistant. Thus, this type of bit is usually used in applications for maintenance works, especially for cars or appliances around the house. Sometimes it could be used even in constructional works.
Slotted bits: slotted bits are well known for their look. It gives a nice general appearance for the appliances it is used in. For that reason, this type of bit is usually found in wooden cabinets or furniture. 
Phillips bits: almost the same as cross bits, Phillips bits are more developed to lessen cam-out, avoid slippery and damages, and fastener. It is used mostly in general joinery or constructional work. 
Bits storage
Besides a set of various bits types, the onboard bits storage will also increase the value of the tool, in terms of portability. With the built-in storage compartment, screws will not easily be lost somewhere along the way. 
There are some types of bit storage that come with magnetic bits holders, which ensure the bits to be kept securely in place. Or else, you can opt for those storages that are visible, so you can check on the bits any time. 
Handle Grip
Unlike the other screwdriver types, a pocket screwdriver focuses more on the length of the handle. While the other types' handles need to be comfortable at first, pocket screwdrivers' handles are usually designed to be fit snugly into small, narrow areas. 
In short, for it to be able to fix small appliances with small gaps, the handle needs to be compact and short. However, having a comfortable soft and anti-skid grip handle will be a big plus for any users out there. 
Cost
When it comes to repairing tools, never compromise the price tag for its quality. Cheaping out on your tools will only wasting a lot of your money in the long run, as you will have to replace them frequently. Thus, we always recommend getting the best pocket screwdriver for yourself, despite the cost. Take it as an investment for a long-lasting tool.
Frequently Asked Questions
Question: What to be considered for safety while using a screwdriver?
Answer: There are accidents caused by the misuse of screwdrivers, which leads to a broken handle or bent shaft, etc. Thus, to prevent getting injured, you'd need to:
Not use a screwdriver as a punch or pinch bar
Keep the screwdriver heads clean and sharp for securely keeping screws attached
Keep the handle intact and clean for a solid grip
Make sure of the right size tips for the screws 
Not over-tighten screws.
Question: What are the most commonly used screwdriver bits that I should consider for my pocket screwdriver?
Answer: There are five most popular screw drives, respectively slotted, Phillips, Hex, Hex socket (Allen), security hex socket (pin in hex socket) Torx T & TX, and One-Way. Here is some brief information about the 4 most commonly used bits for pocket screwdrivers.
Torx bit: strong and wear-resistant, best for maintenance and engineer works. 
Slotted bit: neat appearance, used for cabinet or wooden furniture. 
Phillips bit: most commonly, well-known in general construction and other woodworking applications. 
Hex bit: also known as Allen bits, mostly used in furniture repair kits.
Question: Why is it sometimes called precision screwdrivers?
Answer: Pocket screwdrivers or precision screwdrivers requires precise tips, which sharped to match snugly with the small screwdriver heads. This kind of screwdriver is normally used for electronics/gadgets' small components assembly, or for repairing small appliances like PCs or tablets. 
Final words
With the information provided above, as well as our ultimate list of the best 5 pocket screwdrivers, we hope we could save your time getting confused among all those tools available in the market nowadays. 
Now it's your turn to get the best pocket screwdriver for your own preferences.
Affiliated links and Images on this post was last updated on 2022-09-12 via Amazon Product Advertising API.