Operating on compressed air, the air hammer is a powerful tool that can handle any kind of work. It's so versatile that it becomes such an indispensable tool in any household.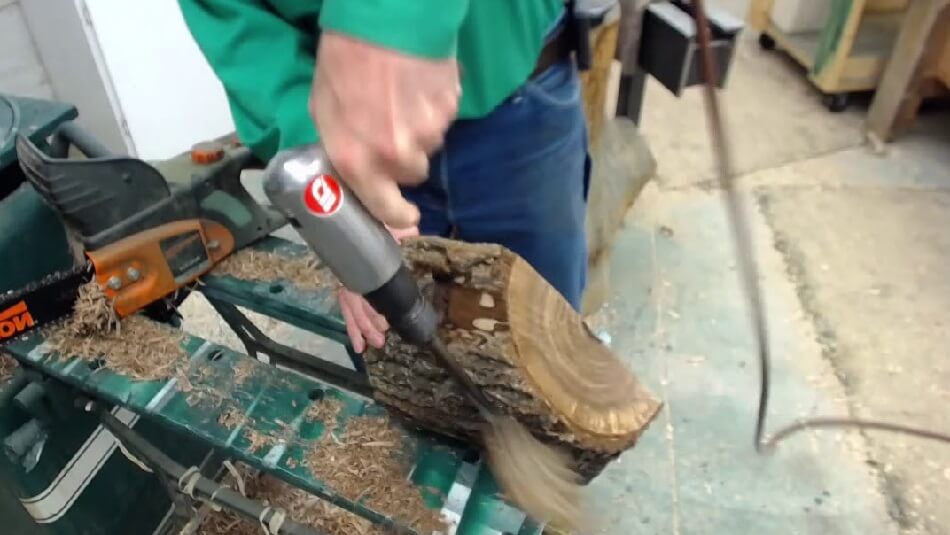 For its versatility and power, getting an air hammer is a must for anyone. It will be such a good addition to your toolbox. However, with a variety of air hammers available in the market nowadays, it can be hard to get the best tool for your work. 
Here we will list down the best air hammers with their mechanisms, and each tool's pros and cons. Thus, you can have a clear vision of what fits most to your needs and requirements. 
Check out our list below.
#1
Ingersoll Rand 114GQC Air...
#2
Sunex SX243 Hd 250-Mm Long...
#3
DEWALT Chisel Hammer,...
#1
Ingersoll Rand 114GQC Air...
#2
Sunex SX243 Hd 250-Mm Long...
#3
Top 9 Best Air Hammers 2021 Reviews
#1 Ingersoll Rand 114GQC Air Hammer
Being the most affordable air hammer in the market with powerful performance, Ingersoll Rand Air Hammer 114GQC is highly rated by everyone. 
The tool performs at 3500 blows per minute (BPM) to deliver 2-5/8-inch strokes. It can easily handle medium to heavy-duty tasks. This air hammer also comes with a quick-disconnect retainer for fast and easy swapping chisels. 
This model features an award-winning ergonomic design, which can deliver maximum accurate torques while still ensure safety for users. The design includes a contoured grip handle that can reduce vibrations, offering the best comfortable user experience.
Ingersoll Air Hammer includes an alloyed-steel barrel for humidity-resistant and a heat-treated piston for better longevity. Besides, you will also be equipped with a set of 3 chisels which can be used for different purposes. 
ON SALE
Pros: 
Powerful performance
Quick-change retainer 
Versatile
Cons: Trigger takes time to comfortably use.
Conclusion: Affordable and super powerful, this Ingersoll Rand model is a must-have in any beginner's household or professional auto-shops. 
#2 Sunex SX243 Long Barrel Air Hammer
Sunex SX243 Hd 250mm Air Hammer has a long barrel, which can deliver a better BPM while demanding less air pressure. With 2200 BPM out of 4 CFM air, this model tackles a variety of heavy-duty applications. 
The hammer features an aluminum housing, offering a lightweight but durable tool. It also has an ergonomic design with a comfortable grip. Your hand won't suffer from constant vibrations strain. 
This air hammer from Sunex includes a built-in knob, allowing users to adjust the level of power accordingly to their needs. Moreover, the tool accepts standard chisel shanks sized 0.401-inch, ensuring it can be compatible with different kinds of chisels.
With this air hammer, you can handle anything at ease.
Pros: 
Powerful 
Versatile
Compatible with various chisel sets.
Cons: No chisels or case included.
Conclusion: With this product's optimum performance and high-quality features, Sunex air hammer might be the best purchase of tools that you've ever had. 
#3 DEWALT DWMT70785 Air Chisel Hammer
Dewalt DWMT70785 Air Chisel Hammer features a body made of aluminum. This allows the tool to have a lightweight structure but super durable. 
The handle of this model is rubberized and shock-absorbing for that extra comfort and ease. You can work with the tool for a long period of time without having strain or discomfort. 
For its lightweight design with the short barrel, the tool can mostly tackle medium-duty works even though it can deliver up to 2,600 BPM. However, the air hammer has a ¼-inch air inlet, which can accept any standard chisel shanks.  
Once purchased, users will get also a set of 3 chisels, for the versatility of the tool. With this set, you can handle a variety of work without having to buy separate chisels. 
ON SALE
Pros: 
Lightweight
Durable
3-year warranty.
Cons: Not as powerful as other air hammers. 
Conclusion: Despite small downsides, this air hammer from Dewalt is still a great tool for any of your applications work. 
#4 Astro Pneumatic Tool 4980 Air Hammer/Riveter
Astro Pneumatic Tool 4980 comes as a multi-functional tool, which can work both as an air hammer and a riveter. You can handle a wide range of work with just one tool. 
This air hammer's body is made of metal with a steel barrel and an aluminum handle. The long barrel design is powerful enough to tackle any heavy-duty tasks. Meanwhile, the aluminum handle offers durability and rust-resistance. 
The 4980 model delivers up to 1,800 BPM. This feature allows the tool to generates maximum power for heavy-duty applications. The tool even has a trigger control handle to ensure users' safety while increasing torque efficiency and accuracy.
Lastly, this product is equipped with a spring retainer, so users can change chisels quickly and at ease. 
ON SALE
Pros: 
Lightweight
Multi-functional
Heavy-duty powerful tool
Cons: Tend to produce a lot of vibrations. 
Conclusion: Lightweight but versatile, who would turn down such a good air hammer like this Astro Pneumatic Tool 4980. 
#5 Ingersoll-Rand Short Barrel Air Hammer Kit
Ingersoll-Rand 122MAX Short Barrel Air Hammer Kit comes with an air hammer, a quick-change retainer, and a 5-piece chisel set. 
The air hammer features an ergonomic grip designed for that extra comfort. The tool is also anti-vibration, so it can lessen the vibrations while functioning over 30%, compared to other standard air hammers. 
This model has a short piston barrel which allows the tool to be much easier to handle. The steel barrel has a cover made of 100% aluminum. With this durable barrel, the tool can deliver up to 2,500 BPM, getting the jobs done fast and comfortably. 
The quick-change retainer included in the kit makes another plus point by allowing users to swap chisels easily and quickly. 
Ingersoll Rand 122MAXK...
Max comfort- Anti-Vibration feature...
Max power- 15% increase in impact...
Max productivity- quick-change...
Pros: 
5-piece chisel set included
Versatile
Anti-vibration feature
Cons: The plastic grip could slip with sweat. 
Conclusion: The whole toolbox comes at once, this air hammer kit will be a great versatile product for you to tackle any work. 
#6 AIRCAT 5200-A-T Low Vibration Air Hammer
The AIRCAT 5200-A-T air hammer features metal valves, which make it stand out from the rest in the market. The metal material keeps the valves from getting damaged easily even if the machine vibrates a lot during the work. 
Speaking of power, this air hammer can deliver up to 2,200 BPM. This speed with the long barrel makes an excellent combination to tackle heavy-duty tasks. Besides, the tool accepts standard 0.401-inch shank openings, giving it compatibility with various chisel sets. 
This model from Aircat has a low-vibration motor, with the lowest level of vibration in the market of 4.2m/s2. This saves your hands and body from fatigue after a while doing the job. 
Pros: 
Quick-change chisel retainer
Metal valves
Low vibration
Cons: The tool motor can be a bit loud while operating. 
Conclusion: All of the unique features of this air hammer makes this tool one of the best option that is highly recommended. 
#7 Chicago Pneumatic CP717 Air Hammer
This CP717 model from Chicago Pneumatic is called a super-duty air hammer for its own powerful performance. It can tackle any of the most heavy-duty, demanding applications in the market. 
The tool includes a positive action trigger for users to precisely take control of the speed and an extra-large 0.489-inch shank opening for maximum tool efficiency.
Speaking of speed, this air hammer operates at 1,800 BPM, allowing users to work with any heavy-duty applications. This is the reason this air hammer is one of the most powerful in the market nowadays. 
The tool manages to keep its lightweight design at just 4 pounds. You can use the tool for a long period without feeling fatigued or uncomfortable.
Pros: 
Lightweight
The extra-large chisel shank opening
Heavy-duty. 
Cons: Quite expensive. 
Conclusion: Powerful to handle any kind of heavy-duty tasks, this air hammer is one of the popular tools in the market, especially among construction workers and truck drivers. 
#8 Chicago Pneumatic CP7150 Air Hammer
Another durable option comes from Chicago Pneumatic which handles rugged use effortlessly. With this air hammer model CP7150, you can tackle any heavy-duty tasks at ease. 
This tool operates at 2,100 BPM speed, alongside a 3-1/2-inch stroke. This feature is a great addition to the power factor. It helps the machine works perfectly with any tasks. 
The product includes a quick-change retainer, allowing users to easily change chisels. Meanwhile, the shank opening of this air hammer accepts standard chisels, making the tool versatile and compatible with any chisel sets. 
Regarding the design, the Chicago Pneumatic air hammer has an ergonomically designed grip. It ensures extra comfort given to users while they working with the tool. 
ON SALE
Pros: 
Powerful, heavy-duty
Quick-change retainer 
Comfortable handle grip. 
Cons: Much heavier than other air hammers. 
Conclusion: Considering its durability and great features, this product is worth its place as one of the best air hammers on the market. 
#9 Campbell Hausfeld Air Hammer XT101000
The Campbell Hausfeld XT101000 air hammer is another powerful tool when it comes to this specific field. With a 2-¾-inch barrel, this tool is perfect for any scrapping, cutting, chipping or punching work. 
Speaking of tool speed, this air hammer from Campbell Hausfeld can deliver up to 2,600 BPM. This feature helps you to get the job done at ease, and really quickly. 
The model features an ergonomic design with a rubberized surface and a comfortable grip. This helps the tool absorb shocks and avoid your arms or hands from feeling fatigued. 
Pros: 
Powerful tool
Ergonomic design
Lightweight. 
Cons: No chisels included. 
Conclusion: Great features along with an affordable price, this air hammer from Campbell Hausfeld will be a good purchase that will never let you down. 
Air Hammers Buyer's Guide – Things You Should Know
Getting an air hammer is easy for there are a wide variety of options available, getting the best air hammer is a different thing. It can be confusing to compare different air hammers at once to pick out the best. Thus, we have made a list of buying guides to save you time and hassles. 
Here is what you should look for when buying a new air hammer.
1. Power
For its versatility, air hammers were invented to tackle a wide range of jobs. Thus, the thing you should consider is if the power is enough to handle your task. 
Air hammers operate on the power drawn from the air compressor. Consequently, the power of every pneumatic or air tool is rated by CFM (Cubic Feet per Minute). 
The higher the CFM figure, the higher the air consumed by the air hammer. Hence, the more powerful the tool is. 
Tips: Every air hammer has to work together accordingly with the air compressor. You should check the specifications of your air hammer for the required air volume and PSI rating. These two numbers need to match your air compressor rating itself. 
Even though nowadays, air compressors are made to be compatible with any tools, you should still pay attention to those details of specifications. It's never bad to know your tools well. 
2. Speed
The speed of an air hammer is often shown by the number of blows per minute (BPM)
The higher the indicator of blows per minute, the quicker the tool is to get the job done. With a high rating of BPM, an air hammer works faster and much cleaner, compared to other lower-rating tools
A decent strong air hammer usually can deliver from 2,000 to 3,000 BPM. So the safest way to have the best air hammer is to get one that has somewhere between that range. You can be sure to work with 90% of medium-to-heavy-duty tasks.
3. Barrel length
Barrel length is another factor to decide the scale of work an air hammer can handle. A longer barrel allows the air hammer to provide a stronger force to the piston. In this way, it generally develops more power.
Short barrel air hammers are great for light-duty tasks. They are lighter in weight comparing to long barrel ones. Thus, it helps users to have better control of the tool, giving more precise applications. It's often used for cutting sheet metal or panels.
Long barrel air hammers, on the other hand, are made for heavy-duty tasks. It's popular in working with jobs like hammering stakes or loosening hard applications. However, a longer barrel is harder to carrying around, lessening the portability of the tool. 
4. Attached Components
When getting a new air hammer, check the other attachments provided together with the product itself. 
Normally, an air hammer will come with a set of chisels. Sometimes, the set of chisels can offer up to 5 pieces that are different in widths and surfaces. With these chisel sets, not only you won't have to buy separate chisels for your tool but you also have a more versatile air hammer to work with. 
With some manufacturers, you can have a case that securely stores your air hammer and all other components. This feature will help you to keep everything in place while still being able to carry it around.
5. Trigger 
Some air hammers feature a positive trigger handle, which will make a better option to consider.
As we all know, air hammers are powerful tools, meaning there are more risks working with it. This trigger will ensure the safety of users for they can take control over the power of the tool.
6. Weight 
The lighter the air hammer in weight, the easier it for you to handle it. However, keep in mind that some lightweight air hammers also mean light-duty works, it won't be able to tackle heavy-duty tasks. Thus, pick the hammer with the weight which can help you with the job, yet still, giving your hand that needed comfort. 
Best Air Hammer Safety Tips
Any equipment can be very dangerous if not operated properly. Especially when it comes to air hammers, compressed air if leaks or perform in the wrong manner can cause severe injuries. Thus, you should always use the tool carefully and follow those basic safety guides, especially when using air hammers. 
1. Always read the manual included
This is a must-do. Know the manual well enough you will save yourself a lot of headaches and hassles working with the tool in the long run. 
By knowing the manual and specifications, you can know what is the maximum indicators for any components. Thus, it helps you to have better control over your tool and to avoid accidental injuries. 
2. Wear protection gear
Safety glass and protection clothes will always be a must especially when you work with high-risk tools. It can help you avoid injuries caused by flying objects such as chipping stones, tiles or other chips. 
Besides, the protection gloves can reduce the vibration from the tool you're working with. Although it won't totally get rid of the tool vibrations, it still ultimately offers the protection needed for your hands on a daily basis. Try anti-vibration gloves for extra protection. 
3. Make sure of clean air compressor 
Be extra careful while working with an air hammer requires keeping your tools clean. Dust and small pieces will affect the lifespan of your air hammer in time. It can make the air compressor rusty and damaged, which can lead to leaking. 
Thus, try to use an air filter to reduce the chances of a dirty and corrosive air compressor. 
4. Pay attention to the air connectors
Leaking air from the air connectors might lead to bad injuries. Thus, make sure your PSI indicator never exceeds 90 or any rating indicated in the specifications. 
Moreover, make sure there is no leak in your air connectors by checking them regularly and paying attention to the hoses. You must secure both ends of the hoses with a clip to prevent unwanted disconnections. 
FAQs
1. What can I use the air hammer for?
Answer: Because of its versatility, an air hammer can be used in a wide variety of jobs. Metal shops utilize air hammers for metal cutting and shaping, or sometimes for smoothing out the metal sheets. Meanwhile, garages use air hammers to free cuts, exhaust pipes or rubber bushes. Or at some constructions, people use air hammers to detach or remove cement or mortar. 
It's all about that versatility that air hammers are well-known for. 
2. How can I change the air hammer bits? 
Answer: Following these steps when changing the hammer bits: 
Remove the air hose to shut down the air hammer. 
Detach the spring from the air hammer. 
Insert a new chisel bit. Lock it down by sliding the spring over the bit and rotating it clockwise. 
Try to push and pull the bit to make sure it securely placed. 
Conclusions
With our ultimate list of top 9 air hammers, along with the detailed buying guide, we hope you're now equipped with enough knowledge and information you need. Now it's your turn to go out there and get the best air hammer. 
Latest Air Hammer BestSellers ON SALE Right Now!!!
Bestseller No. 1
ON SALE
Bestseller No. 2
ON SALE
Bestseller No. 3
Affiliated links and Images on this post was last updated on 2022-09-12 via Amazon Product Advertising API.