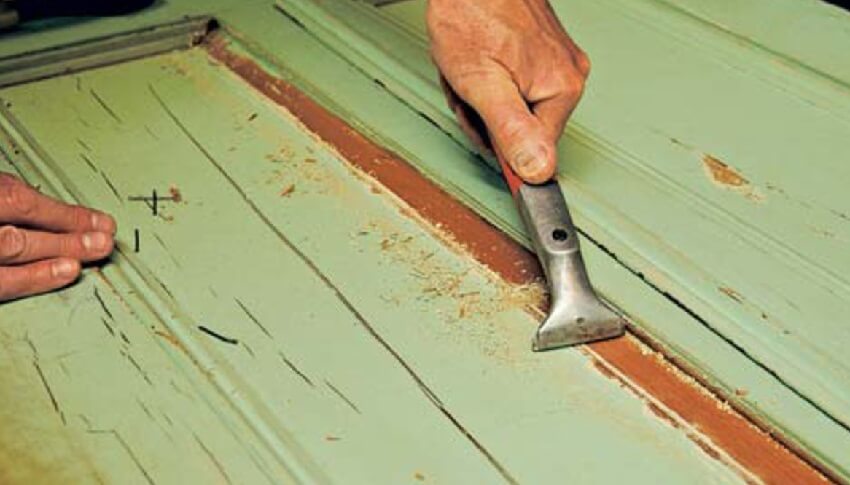 Looking for the best paint scraper to renew your wall look? Either, you need a paint scraping tool for cedar wood, concrete, or plaster, you'll find your right solution in this article. Let's find out now!
"Why do I have to scrape the wall? I will add a new layer on the surface instead!"
I must say this is a saying of lazy and unskilled people. Even if you are an amateur, you must know that to have good paint, you have to remove the old plaque because this is the only way to have perfect makeup on your wall. And now you do not have to hardly scrap every piece of the wall because there are many paint stripping tools like electric paint scrapers.
Stop being lazy, and let's take a look at the list of 9 best paint scraper and buy one for your house!
#1
Bates- Paint Scraper, 5 Pc...
#2
Red Devil 3110 1" Double-Edge...
#3
Warner Manufacturing 90127A...
#1
Bates- Paint Scraper, 5 Pc...
#2
Red Devil 3110 1" Double-Edge...
#3
Warner Manufacturing 90127A...
Top 9 Best Paint Scraper – Paint Stripping Tools
#1 Bates 5 Pcs Scraper Tool – The Best Choice
The set includes 2,5-1 inch five in 1 scraper tool which has a stainless steel blade; you can use it for paint scraper, or even box opener and so many other purposes.
 Besides, the set also includes 1 inch, 3 inch, 4 inch, and 6-inch putty knives, which is very handy and durable with the carbon steel blade.
In my opinion, the spackle blade should have a bit more flex, and the smallest putty knife is a bit narrow because it has a straight unchamfered non-tapered edge. If you only want to find something cheap and good for your home, this product could be the best choice for you.  
Q: Can I use it to clean the glass surface?

 A: It will be best for removing loose paint or event paper wall covering, but not for glass surface. 
#2 Red Devil Double-Edge Scraper
The red devil started their business in 1872, and until now, after such a long time, they developed their product to a level that could make every user happy.
The tool is not too heavy, but it could last forever. And that is the strongest point of the product: you can easily use and bring them along.
And I also appreciate the convenient design that allows me to use different sides. It has four edges – of course, you can't use all of them at the same time, but you can still use two sides quickly and efficiently to finish the job.
The installation is straightforward, too. There is a screw on the bottom that allows you to change the knife.
Q: Can the blade be replaced? If so, where are they sold?

A: You can get the replacements on Amazon by entering Red Devil #3162 in the Amazon search bar.
#3 Warner ProGrip Putty Knife
Full Flex is the result of 90-year experience in making tools for Warner. The full flex has a more comprehensive and flatter handle for easy using and reducing pressure on your hand.
The knife is lighter and thinner. The blade flexes well, and It is sharp enough to scrape off the excess. And as a result, you can use it for so many purposes besides scraping the old paint on your wall.
The only thing I don't like about this scraper is the blade is carbon steel. It means it can easily rust and you have to store it very carefully if you want to use it for a long time.
Q: Where is this product made?

 A: It is made in the USA.
#4 Bates- Paint Scraper
What I like most about this product is not the ability to scrape the old paint; it is the multiple uses. I did use this scraper to open the color can, box and more.
Unlike other products, this scraper has a rust-resistant steel blade. So, you can forget about the problematic storage. Besides, the edge is hard but very thin and flexible. And it means it could save hours of working time for you.
And, can you imagine that the producer even offers you a lifetime guarantee for a paint scraper? Yes, they do that! If there is any problem with your scraper set, you can connect them to return and receive a new one!
Q: Where do you buy replacement blades?

 A: The blade is not replaceable. It is one piece and is riveted into the handle.
#5 Titan Multi-Purpose Razor Scraper Set
The Titan tools scraper set includes a 9-1/4inch multi-purpose scraper, a 4-inch mini scraper, a protective safety cap, and extra heavy-duty replacement razor blades. For me, it is enough for not only scraping paint but also for many other tasks that I don't need to buy anything else. 
What I want to emphasize is that you can use them for sensitive surfaces like glass, ceramic, stovetops, and so on. And that is all because of the mini size and the thin- design blade.
Besides the blades, the Titan Tools feature their scraper with a robust polypropylene handle which is sturdy but comfortable and grip well on your hand when working.
Q: Is this compatible with normal razor blades?

A: I believe so. Depending on how heavy duty you plan using the tool, you may be better off with the double thickness blades.
#6 FOSHIO 2PCS Plastic Razor Scrapers
FOSHIO is the only product in my list of best paint scraper that uses the plastic blade. And the FOSIO company offers you 100 PCS of replacement blade for you in a set. So, FOSHIO is an economical and long-lasting using method.
I think you can easily understand that plastic blades can not be as stable and sharp and durable as the steel blade. But this one is still suitable for scraping the old paint on your wall.
For the plastic blades like this, although it can't scrape as efficient as a steel blade, it can protect the surface better. And FOSIO also designed their knife with an angle on the head so that you can scrape quickly with greater control.
 Q: Can I use it to clean my car glass?

 A: Yes, it is safe even for the glass surface.
#7 Bahco Premium Ergonomic Scraper
With this scraper, you can handle even the most demanding task, because it is made of cemented carbide – one of the hardest materials now.
The cemented carbide blade is 50 times sharper than other materials. You can use this scraper to clean the paint, glue, rust, gaskets, and so many different surfaces.
Thanks to the 2 component handle, you will always feel comfortable when using this scraper. And the producer also offers you two-handed operation so you can use it for heavy-duty task.
Q: Where is this scraper manufactured?

A: They are made in Sweden.
#8 MulWark Multi-Purpose Mini Razor Scraper Set
Bellows are the four strong points of this product. And these strong points are the main reason to bring the Mulwark to the top list of the best paint scraper:
 

Firstly is the non-slip rubber handle. Mulwark scraper has a heavy-duty handle that is made of TPR and tough polypropylene. There is only one product on my list that has a handle using polypropylene material, and they are all comfortable and durable.

 

Secondly, Mulwark scraper has a stainless razor blade and six other replacements with the same materials and different designs. It means it can work efficiently even for the hard-to-reach places and for so many purposes but for scraping paint.

 

Thirdly, it is sharp but safe. Each scraper has a secure tightener knob to reinforced construction and operation.

 

And finally, Mulwark offers you a lifetime warranty, which means they will repair and replace if there is any mistake with your product.  
Q: How long is the extended model – when it is extended?

A: From the tip of the blade to end of the handle, it measures 9.5 inches
#9 Goodson Wide Carbide Tipped Scraper
If you are looking for a scraper to remove paint, glue, and varnish to smoothing wood, this is the best paint scraper for you. With the carbide blade, this scraper can confirm 100 times more durable than other materials.
 Besides, Goodson has a double-edged blade, which can stand up even in front of the hardest tasks. You can use both two edges at the same time to double your productivity.
 And what I like most about this product is the refund policy: if you don't satisfy 100% with this product, you can return it for a refund or exchange.
 Q: Can I use to scrape paint off the glass?

A: You can, but be careful because the blade is very sharp.
Choose The Best Paint Scraper Tools – Things You Should Know
Before applying a new layer to your wall, you have to scrape off the old paint. You can use sharp objects to scrape it. In the process, if you see any peeling-off color, you can use the paint scraper to brush them away. However, in my opinion, you should use the paint scraper from the beginning so that you can save so much time.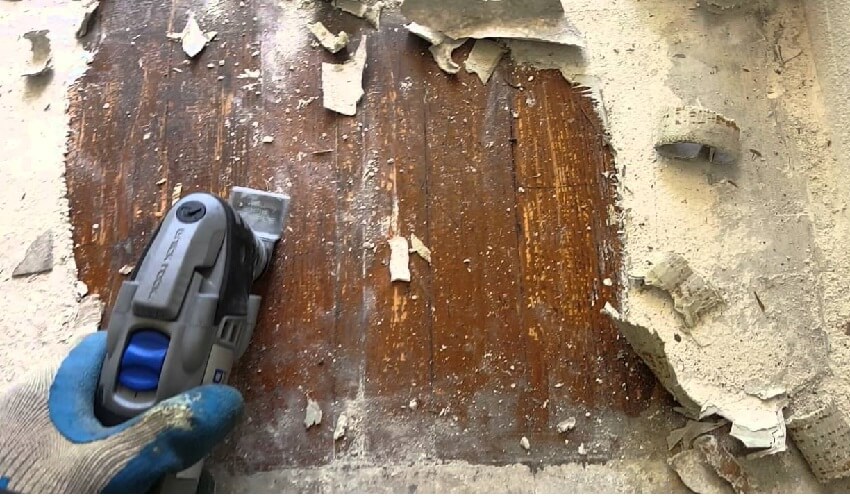 How Many Types Of Paint Stripping Tools?
You can use any stuff in your house to scrape the paint, as long as it has a sharp side. But, if you want to mention the professional paint scraper, there are two basic types:
Standard Paint Scraper
A paint scraper is a specialized tool that is designed for scraping the paint only. You can easily find the double edge paint scrapers and the single edge paint scrapers in construction material stores.
There are four manual types in the "normal paint scraper" group:
Heavy-duty scraper: this scraper offers you a firm grip as you push into the paint. The heavy-duty tool is often flat.

Two edge paint scraper: lt looks like a sizeable facial razor with a full head and thin handle. And they are not designed to push outward but to pull toward you.

Multiple-use scraper: as its name, the multiple-use scraper is not only for painting but also for many other home improvement purposes

Putty knife: putty knife has a blunt end, which is suitable for scraping paint without gouging the wall.
Electric Paint Scraper
Electric paint scraper uses the electricity to run to free human work. After such a long time of development, most of the electronic paint scraper on the market now has high-quality and helpful. Using an electric paint scraper is a handy way to rape off the old wall because it has a strong dynamic and high speed.
How To Scrape The Old Wall?
If your wall was peeled severely, you have to scrape the wall very carefully before adding a new paint layer. In this case, you should follow the three steps below:
Firstly, you should remove the cement mortar layer on the old wall surface.

Secondly, using the hot water to scatter all over the wall, making the lime coat of the wall soft, then use the scraper to remove the old layer of the wall.

Thirdly, clean the wall by using a wet fiber cloth (you don't need to do this step if you use the electric paint scraper).
If your house is old but the surface of the wall is not peeling (you can check by knocking on the wall and hear the voice), you can skip the first step and come to the second step right away.
Tips For Using Paint Scrapers Safely
Although it will cost you time and effort, you should start with the blunt scraper first to protect the wall. You should only use the sharp scraper when the blunt can't handle it.

Don't forget to have a drop- cloth on the floor, it will make the cleaning process more comfortable.

Check the wall carefully before scraping: if the old paint has lead or not so you can arrange safety precautions and remove everything hanging on the wall to prevent injuries.

For tape and stickers, you can use your scraping tool to remove it without gouging it gently.

After using, you can use the mill file to sharpen the blade of a paint scraper. But for the concave graders, you will need special tools or stone to renew.
RELATED:
FAQs – How To Choose The Most Suitable Paint Scraping Tools?
Like any other type of home development tool, there are always so many types for you to select. And if you made the right decision, you will have a better working experience. So, bellows are some tips for you to choose the best paint scraper for you.
What is the best suitable scraper for an amateur like me?
Depending on your tasks, you will need a specific type of tool. but if you are an amateur, a multi-used scraper will be the best option.
What is a suitable blade for me?
A suitable blade is one that has a suitable size, high-quality material and flexible design. And below is the buying guide for you.
Firstly, you have to select the right blade size
The standard blade widths are from ¾ inch to 4 inches. If you usually scrape in small areas and require extreme precision, you should prefer a putty scraper with a stiff and slender blade.
But, if you have to clean a full wall, the bigger blade will help you work more efficiently and reduce working time.
Secondly, the blade material is very important
And you can choose one among the three-blade material below:
 

The carbon steel blade has good quality with a nice flex. But after using it, you have to take care of the edge very carefully because it tends to rush.

 

Stainless steel is a better choice because it is high quality, capable, and able to resist corrosion.

 

The bass blade is ideal for flammable materials like chemical fumes. The Bass blade is also the most expensive.
Thirdly, you should choose the blade with an angled bottom edge.
This design makes the blade slips easily beneath thick and durable layers and lift the old paint easily. And this design can also protect your hands while working, too.
What is the most comfortable handle?
The best paint scraper is the one that has comfortable handles with cushioned grips and sturdy metal end caps.
It is carefully considering if you are looking for a paint scraper with a wood handle because it is the most vulnerable material. You should choose "full tang" and "solid tang" in this case.
And thanks to its cushioned design, the Overmold handles are often the most comfortable. And the hammerhead handles are always the most effective harmer. While working, if you flip the wrong nail, you can quickly close this nail by using the handle.
What is the safest scraper?
The best paint scraper is the safest with the highest quality. You should invest in a high-quality product. And as a result, it will remain safe for you to work.
Trust me, and it is worth it! Do you want to pay 10 dollars for a scraper that could last for five years, or do you one to pay 5 dollars for one that could last for only one year?
Of course, I don't recommend you to buy expensive products but unsuitable for your requirements. I want to convince you that you should find a group of products that fit your needs first, then choose the best one in this group.
Above are some tips for you to choose the best paint scraper for you. Just follow it, and I know that you will have the right one.
Conclusions
This article is all the information I have about the paint scraper: from the product description, usage instruction, and buying guide. Besides, I made a list of the best paint scraper for you to choose in case after reading all of my information, you still can't make the decision.
And I believe that this amount of information is enough for you guys, even if you are an amateur who wants to renew your house's wall. But, if you have any other options or tips when choosing and using a paint scraper, please feel free to leave a comment and share it with everybody.
And if you want me to review any other products, write to me!
Check out more buyers guide for Hand Tools here! Do you think we miss any great paint scrapers? Leave your comment to let us know so we can update our list.
Check Out Latest Paint Scraper BestSeller
Affiliated links and Images on this post was last updated on 2022-09-12 via Amazon Product Advertising API.