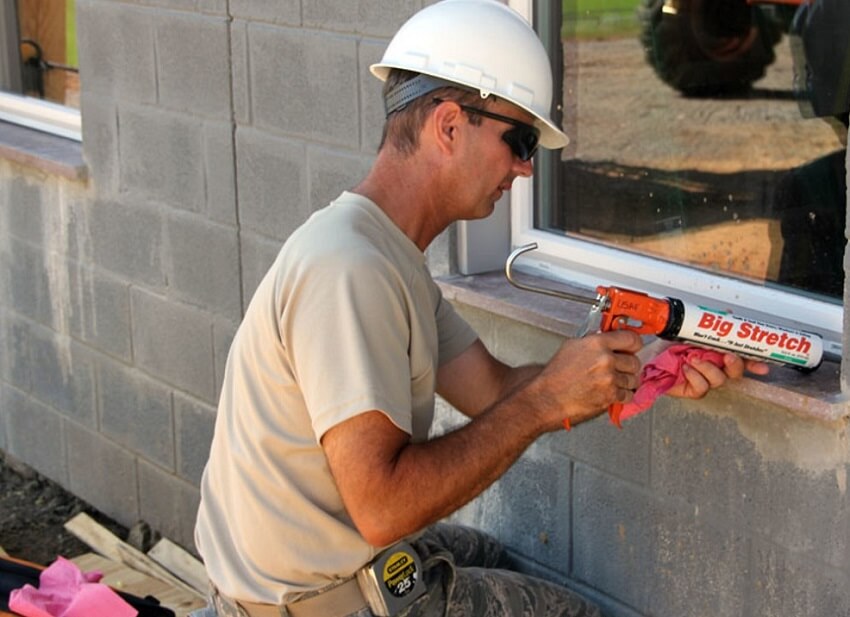 A caulking gun is not a must-have item for all home toolkits. However, it is no doubt a piece of tool to perfect your construction or carpenter work. 
Especially, such chores like fixing cracked sealants between windows and walls or wooden ceiling panels are supposed to cost some money if you ask for a profession. But, the good news is caulking guns can cope with most of them, and anytime and almost anywhere you ask for.  So, why don't you invest in one?
"But I don't know which is the best caulking gun for me!" Well, it's not a problem anymore if you find this article. Every question comes revealed here. 
Tips! Best picks! Keep read on!
#1
Newborn 930-GTD Drip-Free...
#2
Dripless Inc. ETS2000 Ergo...
#3
3 in 1 Caulking Gun (HEAVY...
#1
Newborn 930-GTD Drip-Free...
#2
Dripless Inc. ETS2000 Ergo...
#3
3 in 1 Caulking Gun (HEAVY...
Top 9 Best Caulking Guns For Carpenter 2021
#1 Newborn Caulking Gun 930- Gtd – The Best Caulking Gun
Newborn is a big brand that introduces many models of caulking guns. So we run into this product not by chance. But it amazed us by the price. It could be the price for everyone even a low-budget student DIY-er. 
But, don't judge the book by its cover. 
This Newborn 930-GTD is a manual caulking gun. That means you are given a trigger to pull when you need caulk dispensed and you stop pulling it when you finish. Easy, right? It's a good point of the manual thing, you get complete control of what is happening. And with the support of a silicon pad on the trigger and the handle, even a middle-aged woman can make this tool dispense something out of the rod.
And also with this average thrust 10:1, you can deal with kind of several sealants from silicon, caulk to latex.
We want to believe in the "dripless" advertisement for this product. It could have made this one heavenly good. Meanwhile, the rod sometimes will ooze out but not so much. It's not dripless but as the price we see, it's much better than the rest of manual guns.
ON SALE
Bottom line: You want something for light temporary projects so this one is our suggestion. Fixing toilet or window, Newborn-930-GTD is eligible for everyone because of the price and its versatile usage. 
#2 Composite Caulk Gun Inc. Est2000 Ergo  – The Best Dripless Gun For Caulking
Inc. EST2000 Ergo is still a manual caulking gun with a thrust ratio 12:1. This model can be enough for toilets, windows, ceiling, wooden walls. 
But it's not the best part.
This caulking gun is dripless. Only by this feature, this gun has won over thousands of caulking guns to be in the top list.
Well, you could assume that many models out there get labeled dripless. So, this one is not that amazing stuff. In fact, not all caulking gun advertised "dripless" don't drip. You will find out once you start using them for some minutes. But this Inc. EST2000 Ergo is truly dripless. We wow about it.
Another feature we want you to know about this model is the revolving frame. With common guns, you have to change your hand position to cope with changes in sealant direction. With the revolving frame, you don't. 
ON SALE
Bottom line: Finding a dripless caulking gun straight asks for luck. But you have us here so you found this Dripless Inc. EST2000 Ergo without needing to test the other ten models. 
#3 Heavy-duty 3-in-1 Caulking Gun – The Best Versatile One
While the first two models only promise something like a common and regular job, we suppose that some people are looking for one like a 3-in-1 caulking gun. Like this model, it is a tool that keeps things smooth no matter what you ask for.
We put this on the list as the most budget-saving heavy duty caulking gun. Plus, this one combined caulking gun with the cutter inside and the puncher. And, the advertisement is true about a versatile gun which solves both home and industrial. To prove that point, we need to see the sturdy chrome plate.
The chrome is what you need to ensure the durability and strength of this tool. And, the strong plate will cope with the majority of sealant so what you can use doesn't stop at latex.
Bottom line: If you are doing a delicate DIY project, this gun doesn't suit you. But a rooftop sealing? Yes, as long as you don't mind holding a big grip for a certain time.
#4 Campbell Hausfeld Air-power Caulk Gun – The Best Outdoor Caulking Warrior
You must have heard about Campbell Hausfeld before in credit to its range of agriculture products. But now, we found a piece of Campbell production in the household toolkit – a caulking gun.  Campbell Hausfeld PL155800AV is one of the most expensive caulking guns that we come to the investigation. And luckily, our effort got paid by this excellent tool. 
The PL155800AV caulking gun is a pneumatic one so no thrust ratio, the least wasted sealants and complete control of sealant flow. You would see a future of easy caulking work- a cleaner and faster sealing job than ever before.
The only thing that we have to think twice about this gun is the weird trigger. It happens to be too small if being put on human hands. 
Bottom line: A pneumatic caulking gun should be too much for a DIY project, but not at all for house crack mending. With bigger scaled projects, this one will still nail it.
#5 Newborn 250 Caulking Gun – The Best 4 Thick Sealant
Comeback with Newborn, this brand seems never let us down on the wayfinding caulking guns. But this Newborn 250 must be on this list as the most comfortable manual caulking gun for thick sealant.
Have you ever imagined a manual caulking gun that deals with all types of viscosity caulk and thick sealant? 
As long as you are doing DIY things, you could never think of buying one like those who have caulking work to do all around the house.
This Newborn 250 offers an easy manual job with an 18:1 thrust ratio and a revolving frame. So, you have enough to do whatever you want with whenever cracks happened in the house, and even more.
Bottom line: Not everyone can afford pneumatic caulking gun and there are so many kinds of sealant to deal with. Something like this Newborn 250 is perfect to help you.
#6 Edward Tools Drip-free Smooth Rod – The Best Home Caulking Gun
The Edward Tools appears no standing out regarding its look but its performance.
We put this one in the best home caulking gun list because it has no extra function, meanwhile, it is just so awesome to be a caulking gun singly. So if you need something to finish your school projects or fixing some details in your house welcome to Edward stores.
As a conventional caulking gun, we are proud to say that this Edward can handle quite a lot of sealants from Crete, liquid nails, caulks. Plus, the gun is quite lightweight so everyone can squeeze, swing it as easily as a cake.
It is a manual caulking gun but we are amazed by its minimal drip operation. With the price it offers, we could not even say no but purchase one immediately.
Bottom line: Not coming with a fancy cover but Edward caulking gun is a worthy book to read no matter who you are or which home caulking project you want to finish.
#7 Albion Engineering B12 Manual Cartridge Caulk Gun – The Most Durable Caulking Gun
Albion Engineering is never a strange name and under the reputation of this brand, the B12 B-line caulking gun seems to do pretty well.
This Albion Engineering B12 B-line comes with only 12:1 thrust ratio so that means it copes with just enough sealants for house project as well as DIY jobs. And, it's an advantage for those who just need caulking for that, not pneumatic one or a too-tight thrust ration one.
This model offers a full-length handle so that users don't feel tired withholding for too long. It's so thoughtful of the manufacturer. This handle is what you can count on durability when you drop your tools frequently.
But let's prepare that this caulking gun is not for huge projects like fixing concrete grounds or something beyond.
Bottom line: You need a simple built but durable caulking gun, this Albion Engineering B12 B-line is no doubt a perfect choice. 
#8 Dewalt 20v Max Cordless Caulking Gun – The Best Battery-powered One
Dewalt 20V Max caulking gun is an automatic model that runs by batteries. This device gets equipped with a lithium battery. It's good news because the job will be smooth in needed time without being disrupted.
This one is way cooler than the original design with a trigger to change the speed and flow of sealants. The whole model is so simple and safe for everyone.
Using a battery-powered caulking gun is handy because you can handle the job outside where there is no need for electric access. Meanwhile, you can have your work last forever. Let's get an extra battery as preparation.
ON SALE
DEWALT 20V MAX Cordless...
Variable Speed Trigger allows for...
Variable Speed Dial allow for...
Anti - Drip Feature automatically...
Bottom line: Dewalt 20V Max cordless is the only and the best automatic caulking gun that is powered by battery we put on the list. And we know it's worth our credit for many casual outdoor caulking projects.
#9 Foam N' Seal Fns500 Dispensing Gun – The Best Caulking Gun For Foam
Foam- we haven't mentioned this sealant today but here we go, we've found a great tool to cope with melting foam sealant.
This Foam N' seal FNS500 is a great built dispenser for exactly this kind of material. And for its special mission, the caulking gun gets equipped with a special tube to deal with different foam beads, a tip to stop the most drip.
With fully made of metal, the frame promises to last for long.
Bottom line: Foam N' seal is what you need to solve with foam sealant. It's a tough material and you need an as tough weapon as it to cope with.
What Type Of Caulking Gun Do We Have?
Let's take note and find out how many caulking gun models you must confront. Don't feel overwhelmed because it's necessary to take out of the best. We don't want you to regret even though it might be your very first experience with the caulking gun market.
Ratchet or Smooth Rod?
So, do you want a caulking gun with a ratchet rod or smooth one?
I bet a smooth rod is more preferred thanks to its automatic perfect dripless operation. All you need to concern is to make sure the sealant goes on the right line. 
Ratchet rod asks for more talents in controlling because you need to mind all movements of the sealant and your hand, as well as the amount dispensed. You are bad then there will be considerably wasted sealant. In return, the ratchet rod is a much cheaper version with the manual operation that we recommend for small projects. Especially, with DIYs, the ratchet rod is good enough.
You don't have to throw money on something premium just for mending the window-wall gaps all year round, do you?
Electric or Battery?
Here is the detail for anyone who goes for the automatic caulking guns which are known with smooth rods most of the time. When you come to the automatic caulking gun section, here is what you will see. 
| | |
| --- | --- |
| Electric-powered guns | This kind will acquire access to an electric outlet. So, depending on the cord length as well as the availabilities of power sources, you are limited about space. Nevertheless, it's simple and enough for indoor chores. |
| Battery-powered guns | Some caulking guns run on batteries that are charged or removable. We suggest this one if you have outdoor projects where electricity is not available. Remember, the battery can't last forever. If you are in an all-day job and after a more heavy-duty caulking gun. Let's look below!  |
| Pneumatic caulking guns | This one can operate in locations with no electric outlets in a considerably long time regarding you have an air compressor. If you have a serious project and look for a suitable caulking gun, this type is what we highly suggest.  |
Sausage Caulk Gun?
Do you need a sausage gun? Well, not always necessary if you are gifted with handcrafting. But for your information, the sausage gun can save the most sealant. It allows you to use up until the last drip.
Specialized or Versatile?
Speaking of versatility, we want to mention different kinds of sealants that your dream caulking gun is supposed to deal with.
Some thin sealants are more popular in filling gaps indoor, wood thin cracks or ceiling light breaks. But for metal or heavy-duty furniture, you might need thicker sealants. And with the latter material, not all caulking guns can deal with.
Therefore, you must choose the one responding to your own needs. It's no need to overspend but enough.
Revolving Frame or No?
The revolving frame is an optional feature of a caulking gun that allows you to change the direction of sealant while your hand movement keeps unchanged.
It's not always necessary for some jobs so not all caulking guns include this function.
RELATED:
Which features tell you need from a caulking gun?
Knowing clearly what the market offer you then you have half of your best caulking gun revealed. Let's see what you should understand next.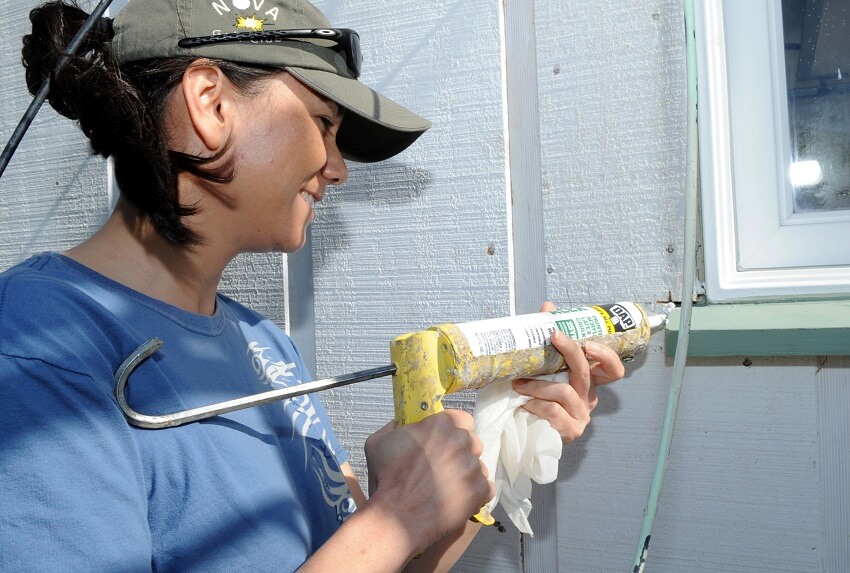 Let's make a questionnaire, for example:
What are you going to seal? Where are you using the gun?
Are you good at squeezing your hand? If yes, how much? For this question only, if you want a manual gun, you need to consider the thrust ratio which defines how much force you have to squeeze. The higher the thrust ratio is, the more strongly your hand must apply on the trigger.
What sealant do you have? The thicker sealant also asks for a higher thrust ratio. Therefore, when you look at the manual option, you can guess which gun is enough to handle your seal.
Conclusion
For the widest range of customers, the Newborn 930- GTD is our best pick for a caulking gun. It's the one for average budget and qualified for household chores that many consumers aim at. Most of the readers, we believe, are choosing their caulking guns for the first time and simple work. 
But, we can't tell which caulking gun is the best for all of you as each buyer picks different features. Only you know the best price choice and function that you need.
Check out more of our Handtools reviews here!
Affiliated links and Images on this post was last updated on 2022-09-12 via Amazon Product Advertising API.