Which brand should you go for when choosing the best parallel clamps? Jet, Bessey, or Jorgensen? Let's find out their features and usages in this article, and you will know which one to choose.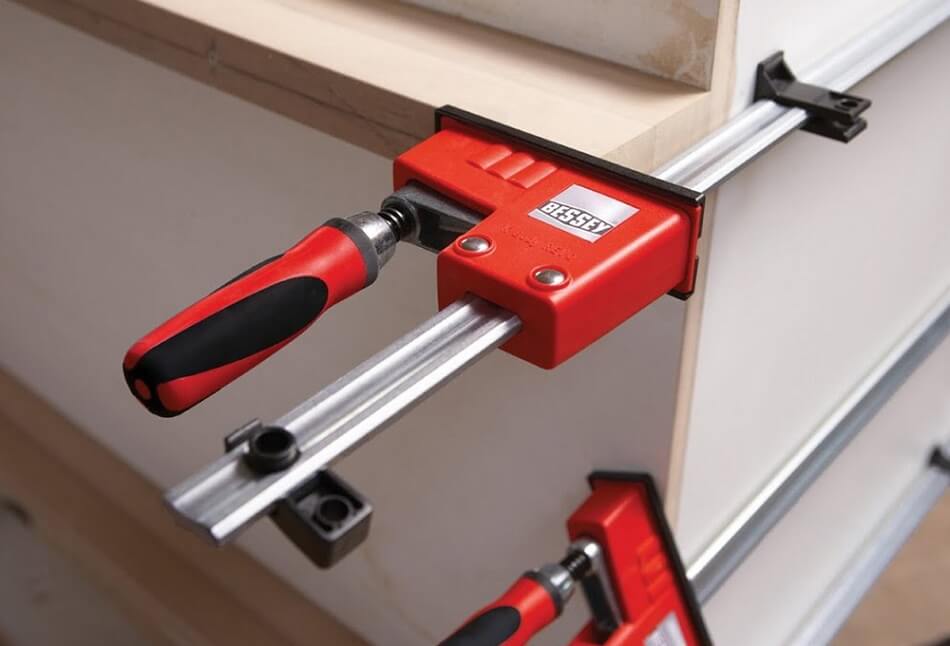 If you have just started with a DIY project or wooden craft, you may not pay enough attention to the parallel clamp since it is easy for you to keep your wood bar stable with a small project.
However, for professional artisans, a parallel clamp is the must-have item in your tool list. When you are serious with the craft- job, you will find it essential to keep your workpiece secure and safe.
Of course, if your workshop is full of an industrial machine like a fancy new saw, it will be another story. But in our opinion, you should invest in a parallel clamp to finish your tasks.
And if you are still considering, this article is everything you need about the best parallel clamps in 2021 and a buying guide for you to follow.
#1
Bessey - K-BODY REVOlution 12"...
#2
Jorgensen Cabinet Master...
#3
JET 70431-2, 31-Inch Parallel...
#1
Bessey - K-BODY REVOlution 12"...
#2
Jorgensen Cabinet Master...
#3
JET 70431-2, 31-Inch Parallel...
Top 5 Best Parallel Clamps 2021 Reviews
#1 Bessey Parallel Clamps K-BODY REVOlution 12″ – Best Bessey Clamps
Bessey is the first product on our list of the best parallel clamps in 2019. And we have to say that it is the best product in our opinion. Bessey offers you four available sizes of 12 inches, 18 inches, 24 inches, and 40 inches. The price of the clamps is various among these products.
One of the most substantial reasons why we recommend this product is its 1700 Ibs clamping force. And the second reason is the bar material. It is made of high-quality profiled steel rail stock from German. With these two factors, you can trust Bessey to keep your workpiece safe and sound.
And the third factor is the design of the Jaws clamp. Bessey designed it at accurate 90 angles with replaceable protective pads to keep the clamps stick on the working area. If you are the only beginner, please don't worry because the Bessey clamp has a large clamping surface.
[sc name="amzl" asin="B07BM91BZM"]
 It should be the best parallel clamp for all beginners and professional users.
#2 Jorgensen Parallel Jaw Bar Clamp – Best Parallel Wood Clamps
The second product in our list of the best parallel clamps in 2019 is Jorgensen. If you are working on a wooden thing for a long time, you have to hear about the "Jorgensen" name. It is a famous brand with excellent quality products. And these clamps are a unique product among them.
Jorgensen's parallel clamp is such an outstanding clamp that it can be perfect in almost every corner of the workpiece, like clamping at the tips or even more profound. It always does its best to keep your wood bar in one plane. And its ability to be stable when stand up will make you surprise.
You can use it in so many materials like wood, plastics, composites, light metals, and mixed materials. It also has 3-3/4 inch jaw death that will optimize pressure distribution, while the security system will do its job to prevents slipping.
The only minus point of this product is the hard-plastic handles. Even it still works pretty well; many customers don't like it. So, there is almost no difference between this clamp and the other expensive clamp. And this could be the priority if you have a limited budget.
[sc name="amzl" asin="B0742BTGYP"]
 This could be the best parallel clamp for one who has just started with DIY with a limited budget. 
#3 Jet Parallel Clamps – Best Jet Clamps
There are three reasons why Jet 70431 becomes one of the best parallel clamps in 2019:  
Firstly is its ergonomic design. There is one tip for you when buying the best parallel clamps to prefer 1000 pounds of pressure. And Jet is exactly 1000 Ibs of clamping force. And it has the size of 31 inch, which is almost perfect for most of working purpose
Secondly, Jet built this clamp to last forever and to pass through your massive duty project. It is all aluminum with I-beam construction and a fully-plated rigid backbone. Moreover, to protect your workpiece and the clamp itself, each of the jaws is covered by composite resin.
Thirdly, it is reliable, easy to adjust with a full clamping surface, and virtually zero deflection. And it is the only product on our list to offer you a lifetime warranty. If you have any problems with these clamps, you can contact their supporters and ask for help.
[sc name="amzl" asin="B000UBKUJK"]
 The best for a workshop or professional who is all about craft-working.
#4 Yost Parallel Clamp
The fourth product in our list of the best parallel clamps is Yost K5000. And what brings us to this product is its compact size and easy-to-use features. It can offer you 800 Ibs clamping force. This could not be the best for a huge workshop or heavy-duty tasks, but it is the best product for your DIY projects. And at a reasonable price, it is more suitable for an individual than a company.
The Yost company started its business in 1908 in America, so even they don't offer you any warranty, you can trust and buy this clamp thanks to its long history. They provide a 1.75inchx4inch jaw face instead of an average size. As a result, its ability to clamp is better.
Yost also designs an oversized main handle to provide extra clamping. Besides, the main grip handles make it very comfortable when using. And that is why we offer this product for starters. You may find it is difficult to use the heavy-duty clamp that is hard to move and use on your first try. And whenever you face problems, you can contact Yost to find help.
[sc name="amzl" asin="B01EVXW5M2″]
 Best for a beginner who has just put the finger on the DIY area.
#5 Bora Parallel Clamp Set
Bora is the last product in our list of the best parallel clamps, and here is the detailed review of this product:
Firstly, it is a strong and steady clamp with 3.5 inches wide padded jaw. And this jaw can provide constant pressure without damaging your workpiece while keeping your jaw stable in the working area. Besides, it is just right with 1.1000 Ibs of clamping pressure, suitable for heavy-duty tasks.
Moreover, Bora understands that you can't find a clamp that can meet all of your requirements. So they manufacture in so many different sizes of 12 inches, 24 inches, 40 inches, and 50 inches. So you can select a suitable size for your working demands.
And last but not least, it has an easy-to-grip handle with an anti-slip bottom jaw and safe materials. So, is this enough for you to trust this product?
[sc name="amzl" asin="B07F4CNDHG/"]
 Best choice for a starter or one who doesn't need to work as a craftsman regularly.
Bottom line: We still believe that Bessey is the best in our list of the best parallel clamps due to its high-quality and strong-ability to work. 
What Should You Look For In The Best Parallel Clamps?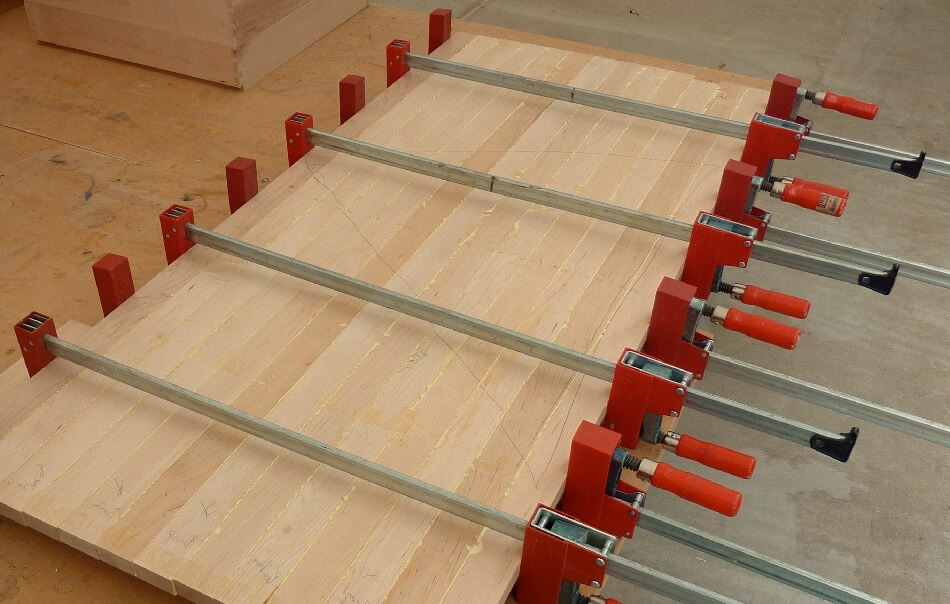 These days, there are thousands of products for you to select. They can come at various origin and price. And your job is choosing the best parallel clamps among these products. And here are some features that you should consider.
Your Daily Tasks
You can only find the best parallel clamps once you find out what you want to do with this tool. So, before buying clamps, please answer the following question:
What material will you clamp?
What is the size of the workpiece?
What do you want to do with your workpieces?
How frequently will you use it?
After understanding your requirement, let's choose the best parallel clamps base on your demand.
Parallel Bars
To keep your wood bar stable and secure, you will need perfectly parallel bars. Because you will place your workpiece between these bars, you have to make sure that these two bars are parallel entirely.
Of course, the producers will create the best parallel clamps. It can be bent because of packing and shipping problems. So, if you buy online, please reminds the sellers and check the product carefully. If you buy at the store, let the supporter pack it to make sure it is safe.
Material
The best parallel clamps will be the most robust clamps. Do you want strong braces or a weak one that can easily be blended when working with hardwood? Of course, you will choose the first option.
We did make the same choice as you. So, in our opinion, we highly recommend the aluminum materials since it is the most durable and heavy use material for your work.
And after aluminum, you can consider the steel material as a replacement, but it is not the best. And plastic is the last option on your list.
Maximum Clamping Force
Never forget to check how much your clamping force the clamp can hold. In most cases, we found that the massive clamping force is a better choice because it can meet our small projects' requirements and heavy tasks.
If the jaws can't deal with the force, they will blend easily. And it means your parallel clamps can't work well anymore. So, the maximum clamping force is an essential factor.
And the best parallel clamps should have a clamping force higher than 100 Ibs. You can pass the one below this mark.
Handle and Pads
About the handle, it should be flexible enough for you to move for a fast clamping movement. Sometimes, it is not easy to keep the workpiece at the right place, so you have to clamp right away once you move. And it would help if you chose the handle with a soft grip, too.
Not many users pay attention to the pad beneath the clamp's foot, but it plays a vital role in keeping your parallel clamp stable during the whole working time.
Jaw Design
As we mentioned above, the jaw holds your workpiece; make sure that it is safe. So, the best parallel clamps have to have a healthy jawbone to apply pressure and keep the bar in the middle. Besides, it has to be flexible not to hurt your object.
Selecting the jaw design is the hardest part, so you can ask sellers for advice if you are not confident.
Conclusion – Best Parallel Clamp Of Your Choice
We believe that you will not want to undo all your efforts because of the wrong cut. So, please do not hesitate to spend your money to invest in the necessary tools.
If you are running your own business, creating a beautiful and perfect appearance product is very important. And to get excellent DIY products, your cuts and joints need to be perfectly fit. And that is why you need to look for the best parallel clamps.
And we hope that the information in this article is enough for you to clearly understand the tools and help you make the right decision. 
If you have any questions or comment, please feel free to share with us!
Not Convinced? Benefits of Parallel Jaw Clamps!
Latest Parallel Bar Clamps BestSellers ON SALE!
Affiliated links and Images on this post was last updated on 2022-09-12 via Amazon Product Advertising API.