Looking for some insights about hose clamps for your cooling systems? Look no further. We have a brief introduction to the radiator hose clamps and a list of best hose clamps for your reference.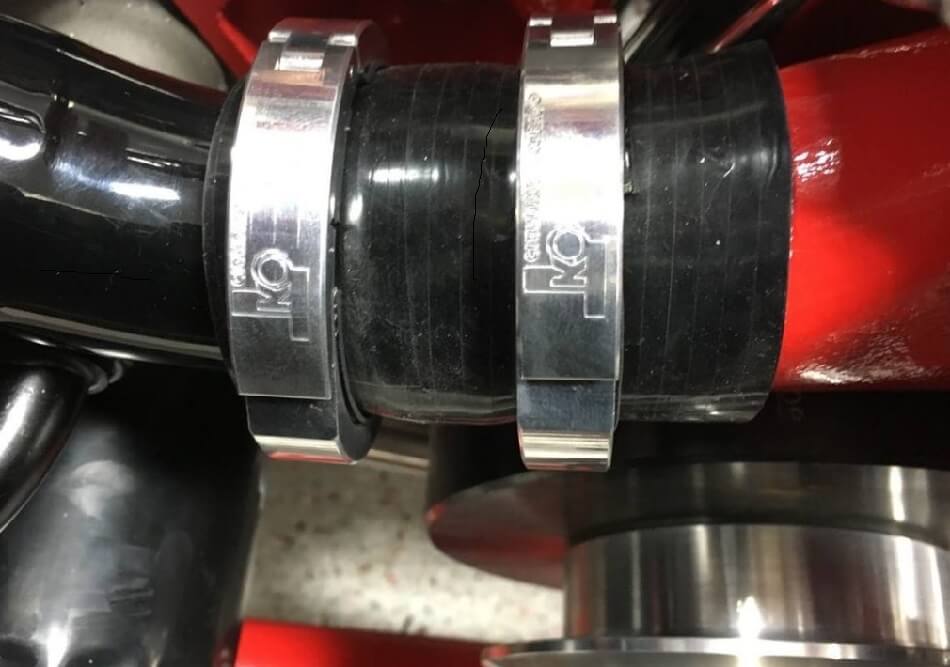 Hose Clamps – Basics
Hose 
We all know tubes and pipes are two interchangeable terms used for rigid cylinders made from metal or solid material. Hose, on the other hand, is referred to as a more flexible (still hollow) cylinder. Mostly made of rubber, it is used to transport fluids from one point to another. In some cases, a hose is also used to connect two different components. 
Hose clamps 
For hoses' material, rubber, can easily dry out and get cracks, hoses will need to be changed periodically, or else there will be leaks. When replacing hoses, one secure connection is an important criterion for it to be leak-free. Likewise, as the fluid in a hose is usually under strong pressure, it will need one secured point between the hose end and one fitting like inlet or nipple. 
READ:
That's when the hose clamp comes in handy. Those clamps are tightened around the hose, sealing it over the fitting. Without the right clamps, high pressure from inside can blow hoses off the fittings.  
Types of Hose Clamps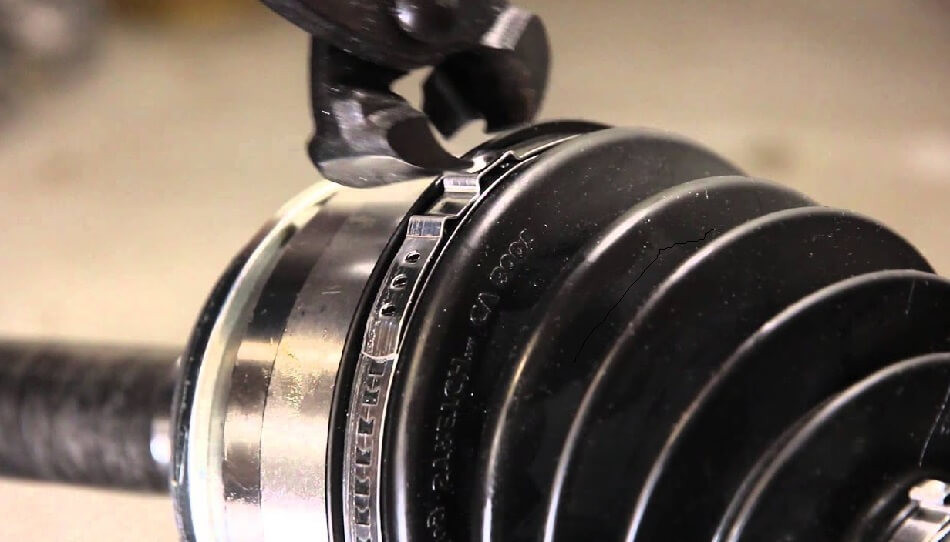 There are various kinds of hose clamps available in the market, for every specific purpose, and every personal preference. 
Screw Clamps (Band Clamps)
Screw clamps, or band clamps, are the most common type of hose clamps in the market. This clamp type is used for many applications, as well as radiator hose clamps. 
Usually made of stainless material, one band clamp includes a band of metal with a screw protruding at one end, making it way upwardly around the hose. Also known as worm gear, the band clamp has a smooth inner diameter, clamping the surface evenly for a leak-free system. This smooth surface on worm clamps is also said to reduce the damage caused to a soft hose and lessen the worn-down progress. 
Spring Clamps
Spring clamps are also known as Constant-tension clamps, for their ability to apply constant pressure on the rubber hose. This kind of clamp is made from spring steel (medium-carbon steel) and is widely used by factory vehicles for their radiator hose clamps. 
To make one secured connection, the spring clamp will be expanded, mostly by a plier, sliding onto the joint of the hose and the barb. Once placed, the clamp will tighten up securing the joint by spring action. 
Ear Clamps
The ear clamp is named like this for its shape consists of a metal band with a protruding part looking like an ear. The ears are crimped together to tighten up the clamp around a hose. 
Unlike screw clamps, the inner ring of an ear clamp doesn't have any strip on its surface, providing the best leak-proof for the joints between a hose and a nipple.
Wire Clamps
Typically embodies steel pieces bent into a ring shape with protruding ends, wire clamps are used mostly for heavy-duty clampings. Both of the ring ends of wire clamps have eyelets on its body, through which a screw will be inserted through one end and locked by a captive nut at the other. Once placed wrapping the hose, the screw is tightened, pushing the ends apart, securing the wire loop.
#1
Hose Clamp, LOKMAN 60 Pieces...
#2
Oetiker 18500060 StepLess...
#3
Cambridge Worm Gear Hose...
#1
Hose Clamp, LOKMAN 60 Pieces...
#2
Oetiker 18500060 StepLess...
#3
Cambridge Worm Gear Hose...
Best Hose Clamps 2021 Reviews
After going through some basic knowledge about hose clamps as mentioned, we now all know how important this small component is in any system. With a good clamp, you will never have to worry about the hose slip off the nipples, or leaking happens. 
Now let us take you to an ultimate list of some best hose clamps available in the market recently. 
#1 Lokman Hose Clamp
Comes as a kit full of worm gear clamps in different sizes, Lokman's hose clamp kit is not only easy to install but also so convenient. Upon delivery, you will receive a firm handy case that has 60 pieces of hose clamps assortment with a wide size range.
For all hoses with diameters from 6 to 38 millimeters, these clamps ranging from 1/4-1.5 inches will be within reach to fit. Moreover, since the clamps are made of premium 304 stainless steel, it is strong, sturdy, and even longlasting. 
Given the premium material, Lokman hose clamps kit is not just durable, it is sworn by the manufacturer to be reusable and recyclable. One environmental-friendly option for any environmentalist out there!
[sc name="amzl" asin="B076Q7ZK19″]
Verdict: This is probably the best choice of kit for anyone who loves mechanical systems yet still wants to protect the environment.
#2 Oetiker Ear Clamp Kit
This kit from Oetiker includes StepLess one-ear clamps and a pair of standard jaw pincers. Made from stainless steel material, these ear clamps are high-quality products that are both easy to install and offer a secure, firm seal around the hose. 
Moreover, with a comparatively smaller width of the band, this ear clamp kit will provide your hose with an elegant and professional look.  
If you prefer something handy and is a good value of price, you will love this kit as it contains clamps coming in a variety of sizes, ready to suit any different hose diameter that you have. 
No need for screws, Oetiker ear clamps still ensures a secure and tight lock between your hose and nipples. No worries about leakings! 
[sc name="amzl" asin="B008L4874S"]
Verdict: Want to own a high-quality kit of clamps? This is one good option you can get for your vehicle. It even calls attention for its professional, not-bulky look, thanks to its smaller bandwidth.  
#3 Cambridge Hose Clamps
If you want to have the most secure yet flexible sealing for your hoses joints, this kit is the best option for you. Cambridge hose clamps kit includes 10 pieces of clamps in different sizes, covering any hoses featuring from 1-1/16 to 2 inches.
The material used to make these clamps are stainless steel, ensuring a solid feeling while using, and good coverage for any joints. Moreover, the screws are easy to tighten and loosen out, giving you the best experience while using it. 
For all of the mentioned benefits and advantages, these clamps are considered to be multi-purpose clamps, which fit perfectly for any type of pipes and hoses.  
[sc name="amzl" asin="B017L1808Y"]
Verdict: This easy to install and high-quality clamps are claimed to work well with any kind of application. Such flexibility!
#4 Pro Tie Hose Clamp
Precisely made from stainless steel, Pro Tie hose clamps will ensure you a sturdy construction and long-lasting use. These o72-size worm gear clamps can handle many types and sizes of hose fittings, from improvement use, auto repair to big scale fields like marine or industrial. 
The hex nut that comes with this clamp can be turned to tighten with a socket or a screwdriver. No need for any special pincer. This makes the whole process become much handier. 
Flexible, durable, and super-tight lockability, these clamps are considered, and rated, as the best hose clamps, especially as in radiator hose clamps and automotive hose clamps.
[sc name="amzl" asin="B006IOZ7M8″]
Verdict: This durable and high-quality clamp has a flexible size that could fit with many diameters of hose fittings. It works well with the big-scale appliances, especially radiator hose.  
#5 Breeze Hose Clamp
This worm gear clamp with a smooth to install screw will open so you can wrap it around an existing connection without having to disassemble that joint. Breeze claims this product of theirs is 100% made from premium stainless steel, so as the series 300 screws included. All for your complete corrosion-proof. 
Worm gear clamps with premium material, this clamp will bring you the toughest connection for your hoses, against any strong pressure. Just like its name! 
This band clamp features a 1/2 inch flat band, for a perfect wrap around the fittings. Besides, the 1-9/16″ to 2-1/2″ diameter range will allow you to use it for not only the standard tubes but also the tinier diameter hose in the compact spaces. 
[sc name="amzl" asin="B009SCX7U6″]
Verdict: Prefer stainless high-quality made clamps? This is one option for you. With its premium material and series 300 screws included, all stainless, these band clamps are your best options for a sturdy, tight seal. 
#6 AFA Tooling Hose Clamp
If you are into ear clamps, and you want a variety of sizes for your convenience, this kit is totally for you! It even has one heat-proof 90° carbon steel pincer. 
The kit includes 123 pieces of ear clamps that feature a modern interlocking design, 360° uniform compression, allowing total even clamping around the hose. With all the possible sizes of clamps, AFA Tooling flexible hose clip kit will serve any types of pipeworks that you need. 
Made from 304 stainless steel, these clamps are one of the most durable in the market. You will enjoy not only the tight seal offered but also the lastingness of products. 
[sc name="amzl" asin="B071XYPKJY"]
Verdict: This finest robust clamps kit with its modern interlocking design will give the toughest seal for your convenience. Moreover, it even comes with a good looking hand-carry bag and a heat-treated pincer.
#7 Precision Hose Clamp
Like the name, these clamps are made in miniature size, allowing it to fit small hoses installed in compact areas. Precision has gone out of the clamp manufacturing, giving customers a good option for thin hoses that hardly any other normal clamps can fit. 
The 10-clamp kit made of stainless steel that is qualified as per the Society of Automotive Engineers (SAE) 300 series standard. This will save you the struggles with corrosion, for your longest period of time using it. 
The clamp in this kit consists of a slotted 5/16″ hex-head, which can be tightened by any common tool. In addition, even though it's all tiny, the hex nut's head is made sturdily. The construction ensures no side-tracking or slipping-off if you need some extra turns. 
[sc name="amzl" asin="B001HWGMBG"]
Verdict: Having a way too thin hose and still confused at which to get? Pick this miniature size up. It can also fit into compact spaces. 
#8 Breeze Hose Clamp
Ever wonder if there is any DIY hose clamp? Breeze has the answer for you. It's brilliant they came up with this Make-A-Clamp kit. 
The kit comes with a long (8-1/2 ft) band, an adjustable fastener, and a band splice. All comes handy for you to make any band clamp of your preferred size, for 2-inch diameters up. It's not just convenience, it's probably also a new interesting experience with pipeworks that you'll ever get.
To boot the value of this, Breeze makes the whole kit from premium-quality stainless steel, giving you the best durability one product could offer. 
[sc name="amzl" asin="B0002QTJ0E"]
Verdict: Ever try to create a clamp on your own? Check out this Make-A-Clamp kit from Breeze. It can fit even large-scale hoses.
#9 Hilitchi Spring Clamps
There are so many highly rated worm gear clamps and ear clamps out there. Thus, to end this list, we would like to talk about one highly recommended spring clamps for anyone who is into this kind of hose clamp.
Functioning through spring action, these spring clamps don't need any screws and nuts to tighten up the clamp, so it can fit comfortably with those thin hoses less than ½ inch in diameter. 
Hilitchi's clamps kit, made of stainless steel, offers customers 6 sizes of clamps ranging from 7mm to 17mm. They make sure your clamps kit comes handy and flexible for personal preferences, as well as able to withstand a long period of usage time.  
Last but not least, these clamps' smooth design allows them to evenly clamp down around the hose. This will ensure there are no leaks and keep the hose in its original shape.
[sc name="amzl" asin="B01M61J6WA"]
Verdict: If you are a fan of spring clamps for their easy to use, no-screw features, this is absolutely for you. Just be careful while using spring clamps as it'd be a bit hard to control once the spring action is broken down. 
Hose Clamps – Things to Consider Buying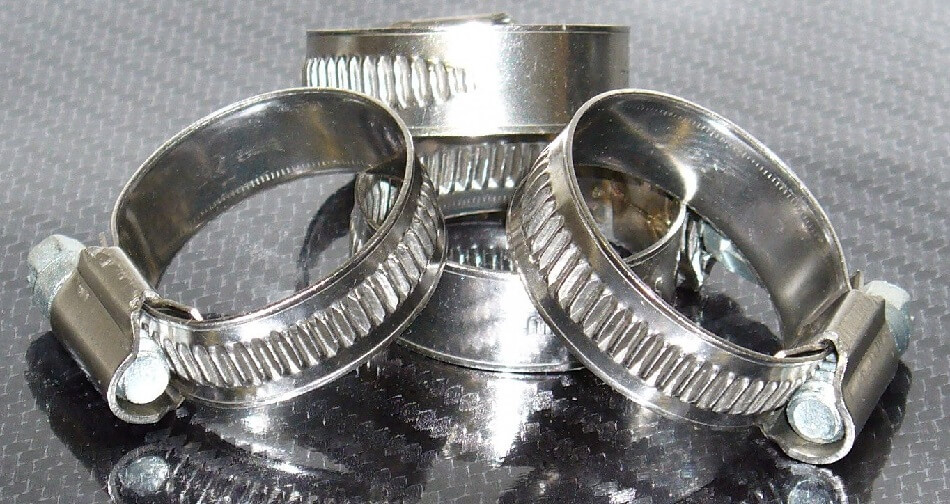 Depend on personal preferences, everyone will have their own criteria to take into consideration while buying hose clamps. However, there are three most important features that you should always remember to check on those hose clamps before getting it for your vehicle. 
Type
With all the details as mentioned in our introduction to types of hose clamps, there are 4 main types of hose clamps you can choose from. 
Keep in mind that each type of clamps comes with its own advantages and disadvantages. Pick the one that most fits your requirements as well as hose size.
Material
Consider the material of your hose clamps as it will decide the usage time of your hose as well. Pick those that are made of robust material for it is well-built and for its capability. Or pick those that are made of stainless steel for it is the best material that ensures your hose clamps to be longlasting, and more importantly, corrosion resisting. Good material sometimes can all provide you a clamp that withstands salt, water or even oil.
Check out our review for some high-quality hose clamps for your longest time of usage.
Hose diameter
Before buying hose clamps, make sure to measure your hose diameter. Hose clamps nowadays are available in such a huge variety of sizes, as in kits. Thus don't forget to take the size factor into consideration before your purchase. You don't want to get a big kit of the wrong size, none of which can work for your hose.
Frequently Asked Questions
Question: Tips For Buying Best Radiator Hose Clamps?
Answer: Examine your hose, measure, and know its diameter to make sure you get the right size of clamps for that hose. 
Don't cheap out and buy clamps from the local auto parts store. Even though sometimes good hose clamps aren't cheap, but don't cheap on clamps! A hose clamp is too small a component that it usually is the most neglected. However, we all know despite its tiny shape, it is still one of the most important components in your vehicle systems as it ensures leak-free. Because of this, only get those that actually work well to save yourself the hassles in the long run.
Question: How Can I Know The Right Hose Clamp Size That I Need?
Answer: Measure the outer size of your hose. 
There are some methods of measuring hoses that you can choose from, such as a rule, dial calipers, or Pi tape rule. Get your tool to measure the hose's outside diameter (O.D.), as the clamps will be fitted around the hose, not inside of it. 
Question: Can I Ever Over Tighten My Clamps?
Answer: Yes, you can. Pay attention while tightening up your hose clamps. 
In order to serve the purpose of preventing leaks, hose clamps always have to be tightened up properly. However, you should constantly maintain consistent pressure while turning those screws. Over-tighten up your clamps might make the hose distorted, deform or broken. 
Question: How Much Does A Hose Cost? Can I Get High Quality Hose Clamp Cheap?
Answer: This really depends on your personal cup of tea in terms of clamps type, and on the sellers as well. While considering the price of a hose clamp, acknowledge how much it gonna cost to fix or replace of hose if it's ever broken down. Spend a little much on clamps so you will be able to use them in the long run. 
However, not all expensive stuff is good. Buying a top-of-the-line product might not be worth the investment when a less expensive hose will work well.
Be a smart buyer. 
READ:
Final Words – Best Hose Clamp Of Your Choice?
Just like a hose, a clamp plays an important role in any pipe system of any vehicle, especially when the pressures increase. With a wrong clamp, the fittings will not be secured enough, giving chances for high pressure of fluids inside the hose to blow it off fittings. As no one will ever want to experience that, one crucial thing is to take hose clamps a bit more seriously. Get the best and most fitted one for you. 
As in the ultimate buyer guide that we have above with all information regarding hose clamps, we hope you could have a better knowledge of hose clamps, and a clearer vision of what will be best for you. Which one is the best option for you? 
Check Out The Latest Hose Clamps Bestsellers ON SALE!
Affiliated links and Images on this post was last updated on 2022-09-12 via Amazon Product Advertising API.