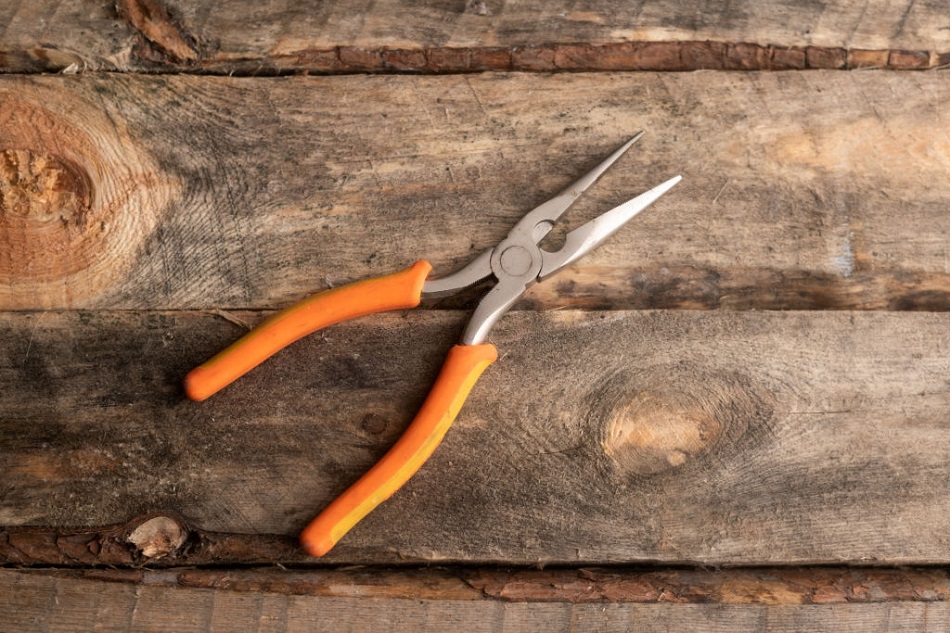 Needle-nose pliers (also known as long-nose or pointy-nose pliers) are special pliers used mainly for cutting and holding wires. They're often used in electronics, or by electricians and other tradesmen – often to bend, twist, or snip electrical wire.
It's extremely rare that you'll find a toolbox that lacks a pair of needle-nose pliers, as they have many uses due to their long nose giving them excellent accuracy and control. They also serve a dual purpose by having a cutting edge located near the pliers' joint.
They're great for getting into small areas to grab a cable or wire, where you wouldn't have enough space to access the wire with regular pliers. We all want to get the best quality for money, so to help you get the best needle nose pliers for your hard-earned dollars, ToolzChannel has compiled a list of our top picks.
#1
Klein Tools J203-8 Needle Nose...
#2
Stanley 84-101, 6 Inch Basic...
#3
IRWIN VISE-GRIP Long Nose...
#1
Klein Tools J203-8 Needle Nose...
#2
Stanley 84-101, 6 Inch Basic...
#3
IRWIN VISE-GRIP Long Nose...
Best Needle Nose Pliers to Buy 2021
#1 Klein Tools J203-8 – The Best Needle Nose Plier to Have
ON SALE
These Heavy Duty 8-inch pliers made by Klein are our top choice for a reason. They're made from extremely high-quality materials, are induction hardened and the hot riveted joint means that over time it won't wear down and cause the handle to wobble.
The design of these pliers is specifically made to be heavy-duty to provide greater cutting ability. Despite them being heavy-duty, the head is also quite narrow so it should allow you to easily reach into confined spaces.
Another factor that is excellent with this product is the ergonomics, the handle size is large and comfortable providing extra reach and leverage. If you want to get a top-of-the-line product, then these are the obvious choice.
They combine all the features needed to make a great set of long-nose pliers, however, the price does reflect the quality and is a bit steeper than lesser models. To top it off, these are made right here in the US by Klein tools, which by the way have a fantastic reputation for quality.
Pros
High-quality material

Heavy-duty design increase cutting ability

Large handle for extra leverage and reach

Klein brand
Cons
#2 Stanley 84-101 – The Best Extra-tough Edge Plier
Another great option if you are looking for quality. This features a 6-inch long nose which is narrow to enable the ability to reach into tight areas. The jaws are made of forged steel to make it tough and durable.
The Jaws also have a rust-resistant coating, which is often a must if you're a tradesman. The cutting edge is hardened and consists of chrome-nickel for an extra tough/sharp edge.
As mentioned previously, buying pliers that are ergonomic to grip is an absolute must. Thankfully, this offering from Stanley doesn't disappoint in this arena – the handle is double dipped to ensure maximum comfort.
Pros
Durable forged steel

Rust-resistant coating

Chrome-nickel hardened edge

Double-dipped handle
Cons
Cannot beat #1 needle nose plier above
This product ranks second because the quality in our opinion is not quite that of the Klein. However, for the price, it's a very good option. As with all Stanley Mechanics Tools, they have a warranty meaning that they'll be replaced in the event of failure.
#3 IRWIN Long Needle Nose Pliers – Best Affordable Plier For Long-hour Work
ON SALE
IRWIN offers many fantastic hand tools, for electricians, builders and more. This product is no different, it's top of the line for its price.
The construction consists of very durable nickel-chrome steel, and the cutting edge is of course induction hardened allowing it to stay hard and sharp for a long time.
Also, the ProTouch hand grips are specially designed to reduce the fatigue on your hands, allowing for stress-free usage. With a 6 inch jaw, you'll have no problem reaching into tight areas to grab a tricky cable.
Many consumers agree that IRWIN doesn't disappoint when it comes to high-quality products at a cheap price.
Pros
Hardened cutting edge

Nickel-chrome steel construction

ProTouch hand grips

Long 6-inch jaw
Cons
#4 TEKTON 3504 Long Needle Nose Pliers – The Best Non-slip Plier
The TEKTON 3504 5-Inch Needle Nose Pliers are another good choice. Consumers generally regard this product highly as it is produced using high-quality, durable materials. The steel used is forged and hardened carbon steel.
It's important that your pliers have handles that are designed to be "non-slip". luckily you won't have any issue gripping the handle of these pliers as they are designed to be non-slip to provide accurate handling and control.
Another ergonomic feature of the handle worth noting is the self-opening/spring loading feature. This prevents hand/muscle fatigue and allows you to more easily operate one-handed.
These 5-inch pliers are quite slim and are well suited to working with small fiddly parts (electronics etc). Aside from reaching into tight spaces with ease, they will also bend and twist the wire with no trouble at all.
Pros
Forged steel construction

Hardened carbon steel

Non-slip grip

Self-opening spring
Cons
Some users might find it too small than expected
NOTE: Many users found this nose plier is way smaller than they expected. So remember to check the dimension before deciding to purchase
How to Choose the Best Needle Nose Plier for Your Work
Either you care about brands, working tasks or material, it is important to choose the right one.
Long Needle Nose Plier Material
One important thing to remember is that as with any tools made of steel, the quality of the steel can vary significantly. For the cutting edge of your pliers to stay sharp for a long time you should choose a pair that is made to be robust via induction hardening. That way they will stay sharper for longer.
As well as being made from good steel, they should have some kind of coating to prevent corrosion. This point is especially vital if you often work outdoors, or in harsh conditions. Most of the best needle nose pliers are produced with very high-quality steel, which is also corrosion-resistant – but be sure to check that it's the case before you buy.
Frequency of Nose Plier Use
They should be comfortable to hold and easy to grip sturdily. This is important because if they're not well designed and you use them regularly it could result in the injury of the hands or wrists. Ideally, the handle should feel ergonomic, and be rubber-coated to prevent slippage.
Needle Nose Plier for Specific Task
They should be suited to your specific needs. Some jobs may require longer noses or shorter ones. Whichever is the case for you, remember to consider this in your buying decision. You could even buy a set of long nose pliers that vary in nose-length in order to cater to all different situations that you may come across.
Plier Brands
Buy from a reputable brand. Although these pliers aren't very expensive as far as hand tools go, we should still purchase a solidly built tool that isn't going to fall to pieces on the first use. For example, IRWIN tools are known to be reputable and are known to have great customer care.
Conclusion – the Best Long Needle Nose Pliers?
We hope that after reading through the above reviews you have a better idea of how to find the top models of needle nose pliers for whatever work you do. They are a versatile tool and come in handy for many tasks, whether around the house or on the job. Choose a high-quality pair from some of the options compiled above, and be sure to check out the "consider before you buy" section.
If you still hesitate to choose, we stand our best recommendation as Klein Tools J203-8. You'd have no issue using it
Related: The Best Wire Stripper to Buy on Sale!
Latest Needle Nose Pliers BestSelling ON SALE!
Affiliated links and Images on this post was last updated on 2022-09-12 via Amazon Product Advertising API.