Bathroom Lighting
might sound simple, but it does not! Bathroom lights are prone to shadows and reflective surfaces. Bathroom lights should complement the space and make the room spacious.
Why Bathroom Lighting Is Worth Your Time
Bathroom lights are also the key to creating an efficient, inviting and spacious area. You want the room to be sufficiently lit so you can get ready with ease, but you also want the ability to soften the bathroom lighting when you want a relaxing bath. The bathroom is also a small space, so it is important to make it appear larger.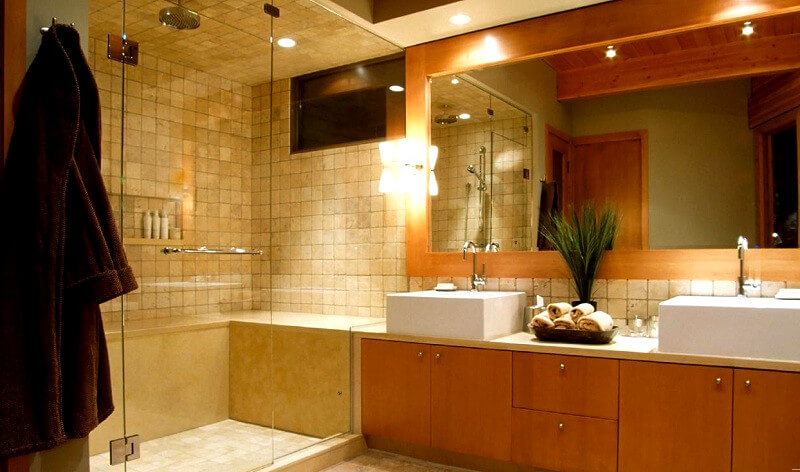 Many people also want the option of heating in winter and a fan to reduce moisture. All of this means that the lighting in your bathroom is one of the most important components of its design.
Bathroom Lighting Ideas for Different Zones
1. Ideal Illumination
In the bathroom, the
lighting
must be general, functional and also natural if you have a window. This will give you complete and flexible lighting to perform all activities. It is recommended to use cold light bulbs.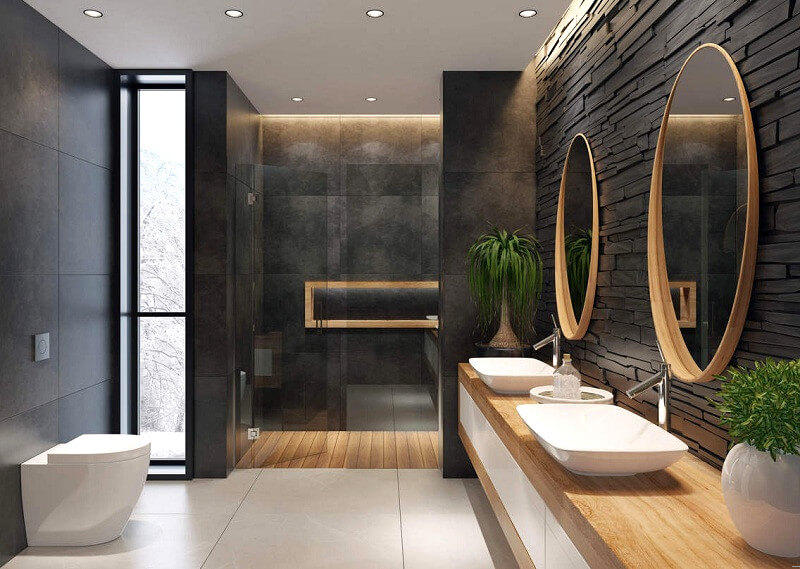 2. Illuminates the General
General lighting can be provided with spotlights embedded in the sky or with a ceiling in the center. If you choose to use recessed spotlights, which are at least 3 distributed and placed on the head of someone who is standing in front of the mirror, this way shadows are avoided.
For the use, we give the bathroom is very important to use a light bulb that has a technology of rapid ignition, such as LEDs or halogen and resists constancy of off and on.
3. Illuminates a Functional Zone
The functional light is the light to support activities in front of the mirror. This light must be punctual and hopefully with spotlights that can be directed.
The spotlights should be placed on the side of the mirror and in front of the person who is standing in order to reduce shadows.
4. Illuminates the Interior of Furniture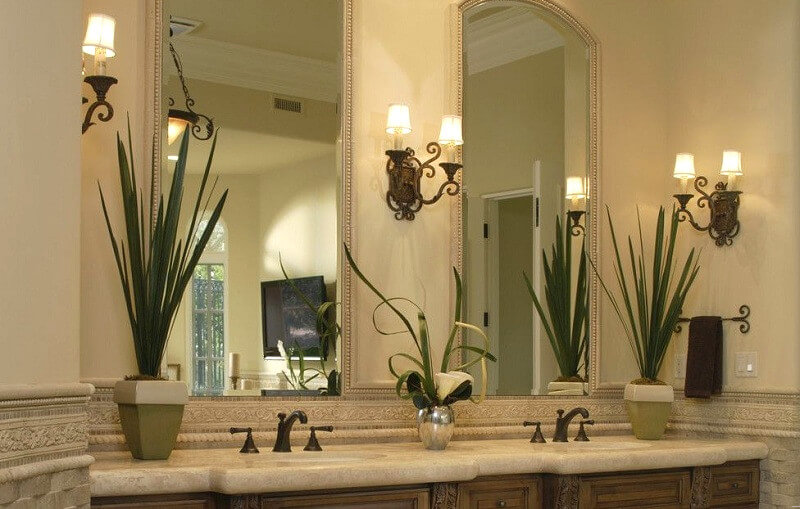 A detail that can help you is to illuminate the interior of the vanities with LED lights, even serve the one-touch flashlights that work with batteries, as they have adhesive that can be glued on the sides of the furniture to be at hand. It is a flashlight that has 9 LEDs, so it delivers very good lighting. To turn it on you only have to give a touch, it works with 3 AA batteries which allow 15 hours of approximate light.
Things to Consider When Putting a Lamp in the Bathroom
The lamps must be located in the least humid area of the bathroom. This means outside the shower or bathtub, but in any case, they will receive steam and humidity that can damage their operation, so it is necessary to look at the
IP factor
that delivers the information of the protection index that has the lighting equipment. For the bathroom or kitchen, you need at least 21 IP. The lamps with the highest IP rating are the integrated LEDs, i.e. those that bring the built-in light without the need for an E27 or GU10 bulb socket, as these are integrated equipment that can establish its resistance to these environments.
Tips on How to Light Your Bathroom
Here are some small but important tips you should consider when lighting your bathroom:
Install lights at eye level on both sides of the mirror
Avoid direct light to your head
Put recessed lights above pieces of art or bouquets of flowers
Add a dimmer to lights
Put each light source on different witches
Go for LEDs for energy-efficiency, modern design, and durability
Make sure you check the IP rating for bathroom lights
5 Most Popular Lighting Units for Your Bathroom and More
Pendant lights
Pendant lights will not only light up your bathroom but also act as a focal point. They come in various styles and materials. You can easily pick one that suits your style.
Lighting Sconces
Traditionally, a sconce was mounted into the wall to hold a candle. Today, it has turned into a lovely fixture. There are numerous styles of lighting sconces that you can select.
Downlights
A downlight is a light that is recessed into a ceiling. The light is downward in a narrow beam. It can be a halogen bulb or a Led bulb.
Under-Cabinet Lighting
The name says it all. This light is installed under a cabinet. It is commonly used in the kitchen and bathroom.
Bathroom Lighting with Diffuse Ceiling Lights
This lighting type is attached to the ceiling and can diffuse the light in a wide area. It is suitable for general lighting.
Skylights
Skylights are a natural way to bring light to your room. It saves your energy too.
Vertical Fluorescent Light Fixtures
It is suggested to install vertical fluorescent light fixtures alongside the mirror for shadowless reflection.
Bathroom Lighting with Illuminated Mirror
If you want something outstanding for the bathroom, an illuminated mirror can be an option. It is the combination of mirror and light.
Bathroom Lighting Units with Heat Lamps
The light is combined with a heating function. It is best used in chilly weather. However, this lighting with heat lamps consumes more energy.
Final words – Bathroom Lighting Made Simple!
I hope after reading this guide, you can find suitable lights for your bathroom. It could be daunting to improve your bathroom lighting without knowledge. Find out more guides and tips in our
Blog
. Still need more ideas for your bathroom lights? This is a collection of 31+ ideas for your bathroom lighting from
RunmanReCords Design
.